The insights from the iMA materials can be used to improve the adoption and application of key Praxis materials in your current role or if you are looking to add a fresh perspective and capability to improve future performance. Firstly complete the iMA™ Diagnostic and then reflect on your own style and how adapting it, given the context, may be advantageous to you personally and the project, programme or portfolio you work on.

The examples used below are for risk management and in particular the Identify stage but the same principle applies to any of the iMA related materials in Praxis.

Please note that all descriptions are written as definitive statements to reduce the use of "in most situations or cases", "primarily", "has a preference for", etc. It must therefore be noted that we are identifying a preference.
Reflecting on your own style and strengths


Identify what you would typically propose or want to see (e.g. a High Green shown in the figure), consider if this is appropriate given the context; identify how other colour styles would tackle the same activity, ask would this approach add value and Modify as appropriate.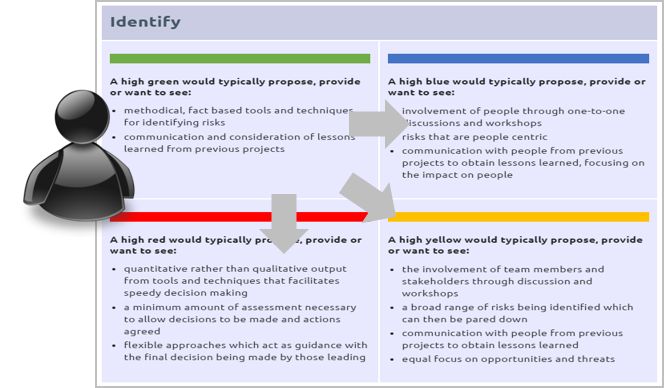 Working with others – individuals or teams

Identify your colleague's colour style, consider the implications in terms of the relationship and achieving the task, consider how other colour styles will tackle the task or deal with the situation – how this will impact you, modify as appropriate. A similar approach can be taken for entire teams by considering the collective profile of all team members.