Contracting differs from other disciplines in the degree of uncertainty. The contractor must deal with difficult variables, such as adverse environment, weather, terrain, interference, personnel qualifications and tempers, different types of jobs, different specifications and widely fluctuating costs in addition to an unknown future market for his services. Generally speaking, contractors are people of integrity for those who are not eventually do not survive.

Profit is the contractor's incentive and no one should expect a contractor to perform at cost.  The point is that a healthy contractor is a solid performer and a good businessman; knows their costs and what can or cannot be done and realizes that reputation is built upon past performance.

Success breeds success. A contractor may overbid or underbid any given project, but on the whole, at year end, should show a profit. This is the motivation and makes efforts worthwhile.

While an established contractor tries to provide steady year-round employment for a fixed group of reliable people, he or she must deal with multiple factors affecting his or her potential. Some of these factors are:
Level of economic activity in the chosen area of business;
Specialized personnel available to perform;
Ever-growing competition;
Difficult-to-deal-with customers;
Internal organization problems; and
Adverse weather conditions.
Successful contracting attributes
Successful contractors outside of attributing their good fortune to esoteric business skills, suggest the following general precepts as particularly important in operating a profitable contracting firm:
Well-trained, experienced personnel;
Sound job selection;
Effective cost-control and reporting procedures;
Careful analysis and cost/time estimating;
Good labor and public relations;
Alertness to improvements; and
Sound financial policies.
Well trained, experienced organization
The secret of success in any endeavor has been defined as organization. This is certainly true in the case of a contractor whose success and reputation depends on the effectiveness of the organization. The contractor's management and staff must be well qualified for their positions by reason of education, experience, and demonstrated ability, with capability in organizing and directing people to accomplish jobs in minimum time with quality workmanship - not an easy task by any means.

Contractor failures are by and large due to managerial inability, lack of experience and incompetence. These, of course, are linked to organizational incapability, which results in ineffectiveness in other areas as well.
Sound job selection
A contractor usually has an opportunity to bid many jobs each year; many more than their capacity to perform. From these solicitations the contractor must be astute enough to select only those that can be performed and which offer a reasonable opportunity for profit. He or she cannot afford to be indiscriminate, since bidding is a costly process.

Not being selective, can result in being overextended with disastrous results. Of course, any contractor would prefer a cost-plus or a negotiated contract, which minimizes this risk and assures a profit.
Effective estimating and cost control
The importance of this item should be quite obvious. Knowing and understanding thoroughly all facets of the job being bid and providing for possible unknowns the contractor must be able to estimate costs accurately for performing the job including a reasonable profit. An estimator actually plans how the work is to done taking into account all pertinent factors. This is true on firm or cost-plus contracts.
It is necessary to report and record costs effectively so that the contractor can keep on top of the work. These guide the control of the job, provide the data on which future estimates can be based and bring to light opportunities for savings on other jobs.
All plant engineers and other top management people have a need for accurate estimates; these are the basis for approval or disapproval of proposed projects. A pet peeve of most plant managers and plant engineers is the inaccuracy of an estimate as compared with the final cost of the project.
Good labor and public relations
The contractor is a businessman in a community and needs to attain and reinforce a positive favorable image in that community. By this means reputation becomes enhanced and is certainly is more desirable than the alternative.
Perhaps of greater importance is an ability to deal with all the people on a job. Success or failure depends on the accomplishment of jobs at a profit through the people employed.

The management skill of an organization is tested almost constantly in coordinating and motivating various crafts involved in a job. Certainly each supervisor should have a working knowledge of the limits of craft responsibility, as well as an understanding of the working class environment, union or otherwise and should be able to control and guide a project effectively and wisely to a successful conclusion.

This proficiency, on the part of the contractor, is very important to a plant engineer; it assumes an even greater importance when plant craftsmen are involved since disputes resulting in costly delays can readily develop between plant craftsmen and outside craftsmen.
Alertness to improvements
Every businessman, including contractors, must be aware of developments and methods improvement, which may make it easier and less costly to perform his tasks. They need to be flexible, willing to change and not married to the old way of job performance. Many new types of material and labor-saving devices are being developed in the present competitive environment. The contractor must keep abreast of and utilize these advances.
Sound financial policies
Most contractors who have failed seem to have met their doom because of ineptness in financial management. It is important at all times to have sufficient cash reserves and working capital.

Excessive investments in fixed assets may result in insufficient working capital, burdensome fixed charges and a high breakeven point. Inventories should be held to a minimum, since having cash tied up in inventory may result in insufficient cash available to cover current liabilities. Working capital should be adequate to avoid becoming overextended financially. Many different financial ratios, compiled by various associations from balance sheets and profit-and-loss statements, are available.

Some of the more meaningful ratios which may apply to a contractor's business are:
Working capital to sales: 10-15%
Cash to current liabilities: 25-30%
Net profit to net sales: 5-10%
Current assets to current liabilities: 1.5-2.5 times
Selecting contractors
A contract is an agreement between two parties, one called the contracting party or owner and the other the contracted party or the contractor, to perform a previously determined scope of work for a previously determined amount of money.

It is the contractor's duty to perform the scope of work for which he or she was contracted according with the clauses stipulated in the contract related to:
Job specifications;
Level of quality;
Safety requirements;
Cost control services;
Reporting requirements; and
Labor laws.
Selecting and appointing a contractor usually follows the cycle shown below.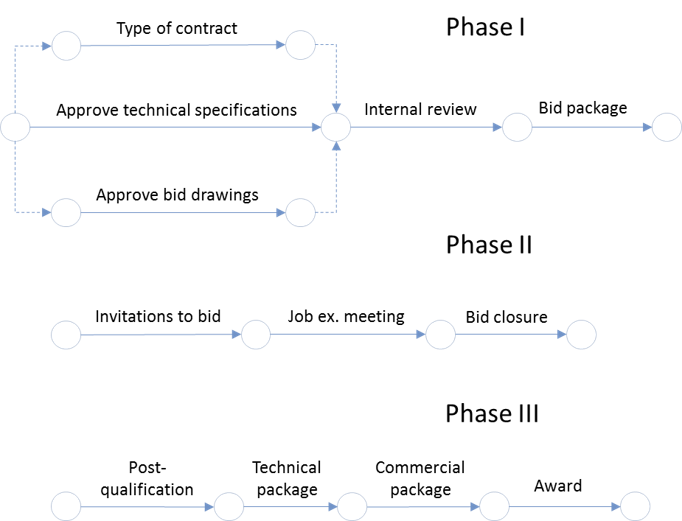 This cycle shows all the usual pre-contracting activities (phase I), the bidding process (phase II) and after bidding contract development (phase III). Looking at aspects of this process in more detail:
Pre-contracting activities
The owner contracting representatives usually rank the contractors in the area with special qualification requirements well either in anticipation of starting any specific contracting activity (pre-qualification) or asked for credentials along with the bid offer (Post-qualification).

Whatever system is chosen contractor's qualification is usually carried out taking into consideration a number of parameters as:
Financial capabilities;
Supervisory staff;
Manpower availability;
Equipment;
Previous experience; and
Workload.
Supervisory staff should be qualified by name and resume. A team of ten is essential:
General superintendent;
Superintendent assistant;
Chief engineer;
Civil engineer;
Mechanical Engineer;
Electrical engineer;
Accountant;
Quality assurance supervisor; and
Security & safety supervisor.
Equipment should be measured by maintenance state and reported success based on historical data. So when a project comes by the contracting people have clearly established in anticipation the slate of contractors available to perform the job.

Once the job is ready for contracting, a bid package has to be put together. This bid package usually contains the following:
Instruction to bidders on how to handle their proposals;
Contracting general conditions;
Contracting special conditions;
Technical specifications; and
Drawings and schedules.
Instruction to bidders
The instruction to bidders should contain:
Project description, parties involved and schedules;
Type of contract to be followed;
Deadline for proposal submissions;
Number of copies for offer;
Sealed proposals and a one-time opening after due date;
Payment routine;
Procurement needs;
General safety requirements;
Inspection regulations; and
Bond requirements.
General conditions
Contract general conditions will depend on specifics about every project in particular but it usually includes:
Definition and interpretation;
Contract documents;
Responsibilities;
Duties;
Performance bonds;
Site inspection procedures;
Project cost and schedule controls;
Safety regulations;
Security regulations;
Compliance with company bylaws;
Patent rights and royalties;
Cleanliness requirements;
Hold owner harmless clauses;
Labor relation matters;
Quantity assurance and quantity control clauses;
Project modification and changes procedures;
Unit rates;
Owner rights; and
Contractor default clauses.
Special conditions
Special conditions usually refers to those related to the kind of contract at hand which sometimes makes the job specifically different from run-of-the mill contracts.

They usually include:
Special work hours;
Extensive insurance coverage;
In-depth definitions of responsibilities;
Extra safety precautions;
Highly confidential issues; and
National security involvement.
Technical specifications
Technical specifications are the heart of the job definition and as a minimum they should contain the following:
Written description of what is to be built;
Interfaces with drawings to show details and with procurement schedules to establish real needs;
Work breakdown structure; and
Organization breakdown structure.
Drawings and schedules
Drawings and schedules are the complement of the technical specification and they depict the total scope of the job and material quantities required to be installed.

They are usually marked "For quotation only" (FQO) as opposed to drawings and schedules later issue marked "Authorized for construction" (AFC).

Once the bid packages are distributed to bidders, a job explanation meeting is prepared to allow prospective contractors to consult the owner design team representatives. A physical visit to the construction site will follow and bidders are usually asked to present certification of attendance to this procedures along with their proposals.

During the period between bid distribution and bid closing a great deal of consultation activity takes place between bidders and owner representatives to clear:
Bid errors;
Bid omissions;
Additions; and
Deletions.
At bid closing time, contractors are requested to deposit commercial and technical proposals in different envelopes in specially locked boxes belonging to the owner. Owners usually have an internally developed proposal to be able to compare bids against it.

The technical proposals go to the owner's technical team where their compliance with bid technical requirements is established and returned to owner contracting representatives. The owner's contracting representatives along with the owner's auditors open and analyze commercial proposals and establish the best offers with matching technical acceptance.

A management executive committee then decides where the award goes based on the previous analysis by other groups mentioned above. Once the award is communicated to the successful contractor, a meeting is set up to ultimate details and analyzed the contract document to be signed.

The contract should establish clearly the owner and contractor representatives and their respective duties throughout the contract. After contract signature, the contract performance starts by securing approval of the contractors planning and scheduling of the activities involved and mobilization of contractor's equipment and personnel.

Performance measurement procedures are set up and followed and accountability reports based on the project breakdown structure and the previously establish code of accounts are started. During the first construction site meeting, daily, weekly and monthly report needs are organized and enforced.

Inspection and safety from the owner's office will keep close attention to field developments and highlights of inappropriate work produced. Close analysis of the data collected by the above mentioned reports and schedule updates will generate decision-making activities within the project management team to keep the contract running under budget and on schedule.
Planning and scheduling
As mentioned above planning and scheduling starts at contract signature with the approval of the contractor's schedule. The contract should have specific provisions to deal with:
Lack of progress;
Project design changes;
Manpower allocation;
Original schedule updates and revisions;
Reporting needs and frequency;
Material procurement interface; and
Tools and equipment allocation.
Thanks to Ignacio Manzanera for providing this book