The goals of this process are to:
measure performance and identify trends;
take corrective action where necessary to keep work in line with plans;
escalate issues and replan if necessary;
provide stakeholders with an accurate and current description of project performance.
Click on the diagram below for explanations of inputs, the process and outputs.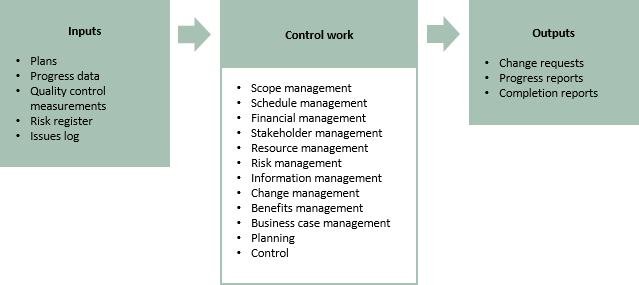 Inputs
Plans

The latest baseline plans are input to this process and progress will be compared against them.

Progress data

Progress data can be a simple as the date of completion of milestones or as detailed as the collection of cost and schedule progress for earned value management.

Quality control measurements

The quality of deliverables must be monitored to ensure that products are fit for purpose and the overall objectives of the project or programme remains achievable.

Risk register

Any review of progress and consequent reports must take account of any changes in the status of current and imminent risks.

Issues log

Any current or imminent issues must be taken into account when reporting on progress.
Back to control work process diagram
Functions
Control work is the central process responsible for ensuring that the progress of the work is monitored and corrective action is taken as necessary. It co-ordinates all the delivery functions and the procedural steps within those functions will be repeated as necessary.
Click here to see how the Praxis functions map to the detailed ISO21500 processes.
Depending upon progress, plans will be revisited, new risks or stakeholders identified, contracts and funding reviewed, resources reallocated and so on.
Click on the diagram below to see more information about each function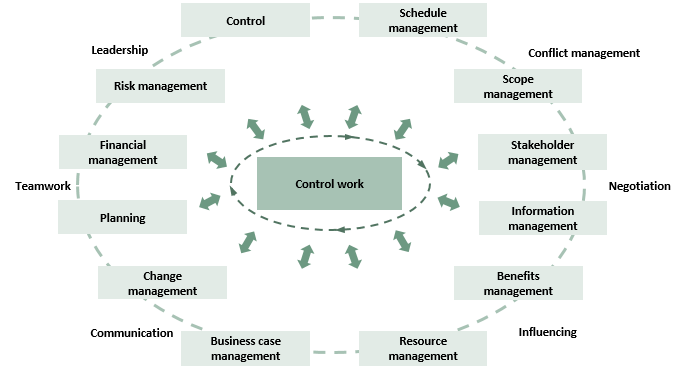 Control is evidently the primary function that contributes to the control work process. It encompasses the control of all the other functions including, schedule, scope (quality control), cost and risk.

Control of scope falls into two areas: quality control and change control.


Quality control is concerned with ensuring that the deliverables produced conform to their documented quality standards. Change control is concerned with changes to the scope and ensuring that the impact of changes on the business case are positive.


Both quality control and change control are underpinned by configuration management to ensure an audit trail is maintained that confirms quality has been achieved, shows hoe different products interrelate and keeps an audit trail of changes.

A key part of schedule control is the use of actual progress to predict future progress. Whether this involves the use of earned value management on more traditional projects or concepts like 'velocity' in an agile environment, the principle is the same – using past performance to forecast future performance.


Actual progress will be compared to the approved baseline and, where necessary, corrective action will be taken to try and get progress back to baseline.


Significant deviation that cannot be brought back on track by corrective action may lead to change requests to update the baseline. What counts as 'significant deviation' is usually defined by tolerances. These are agreed when work is delegated. For example, when a sponsor delegates management of a project to a manager, there will be an agreed baseline plan with tolerances – if the project is forecast to stay within these tolerances then there is no need for the manager to escalate problems to the sponsor.


It is only when the work has exceeded or is forecast to exceed these tolerances that the manager must revert to the sponsor for a decision on whether to implement an exception plan and/or reset the baseline.

This function includes cost control and control of funding.


Cost control is similar to schedule control in terms of using past performance to forecast future performance and in techniques such as earned value management, the two are combined.


Budgets should include contingency reserves and management reserves that can be used without breaching tolerances. The financial management plan will define responsibilities and authority levels for releasing funds from these reserves.

The idea of 'controlling' stakeholders doesn't sound right, but the term must be seen in context. Controlling the work involves reviewing the stakeholder register, ensuring that communications have been distributed on time and are having the desired effect.


This is not about controlling the individuals (who need to be engaged and influenced), it is about controlling the activities that enable them to be engaged and influenced.

Internal and external resources will need to be mobilised at different points in the project or programme. This may involve the acquisition of external resources through procurement or internal resources subject to a matrix management arrangement.


The usage and cost of resources needs to be monitored and compared to baseline estimates of how many resources are required and how much they will cost.


This will be closely aligned with control of the schedule and finances.

The reaction to progress may involve the application of corrective action, production of exception plans and/or acceptance of changes to baselines. All of these options will require a review of the risk associated with future work.


Even if all is proceeding to plan, changes in external influences may also lead to changes in the risk profile of the project or programme.


It will also be necessary to monitor and control the risk response actions that have been put in place to ensure these are working as expected.

The success of all of the control functions co-ordinated by the control work process are dependent upon accurate and timely information.


Baselined documents will also be subject to configuration control when they are changed.

Programmes and some projects will involve the management of change. While this introduces a different dimension to the management of the work, it still comprises activities that need to be performed and costs to be incurred. The difficulty is in measuring the effectiveness of this work, especially in the context of the business case.


Change management has to monitor changes in behaviour and the degree to which new way of working and a new culture have been embedded in the organisation. Despite the less tangible nature of this work, it still needs to be controlled as it is a vital part of the business case.

Benefits management is closely aligned with change management and business case management. The value of benefits is what makes the business case viable and benefits are usually realised through the application of change management.


Controlling the activities that lead to benefits are only part of the story. Controlling a project or programme includes checking that the benefits are still achievable and desirable, and adjusting profiles where necessary. It will also encompass identifying new benefits that could be achieved but were not foreseen when the business case was being developed and approved.


In programmes and more complex projects, a separate benefits realisation process will be used by the control work process will need to ensure that the performance data from benefits realisation is fed back into the other control functions listed here.

The primary objective of controlling the work is to ensure that the business case remains desirable, achievable and viable. If the information arising from the control of schedule, scope and cost performance indicates that the business case will probably fail one or more of these tests, the sponsor may have no choice but to invoke the close process to terminate the project or programme prematurely.

The inevitable consequence of control is that plans will need to be updated. Delivery plans such as schedules and budgets will be regularly updated and, if necessary, re-baselined.


Management plans will need to be changed much more rarely and only if the management needs of the project or programme have changed in principle. If management plans are changed they should still conform to the relevant organisational management policies.

All the interpersonal skills are relevant to this process. The only reason that delegation has been omitted form the diagram above is that it is primarily used in the direct work process.


Leadership and teamwork come to the fore in this process, particularly situational leadership and its role in building a high performing team and maintaining that level of performance as team members leave and new members arrive.


Communication is, as always, a primary skill that will keep team members and stakeholders engaged in the progress of the project or programme and aware of what needs to be done as a result of that progress.


Conflicts will inevitably arise, even when work is progressing well and these must be actively managed to maintain good progress and correct poor progress.


Negotiation will often be applied in conflict situations as will good influencing skills. Routine management suppliers and engagement of stakeholders will also often require negotiation to keep progress on track and implement corrective action where necessary.
Back to control work process diagram
Outputs
Progress reports

Progress reports can take many forms. Most are provided at regular intervals to show what has been done compared to what should have been done. They can be as simple as milestone slip charts or as sophisticated as earned value management reports.


Understanding progress will lead to corrective action or escalation of issues that are sufficiently significant as to trigger change requests that, if approved, will lead to updates to the baseline plans.

Change requests
See control changes for more information on the two types of change request.
As work progresses, the two forms of change request may be generated.


Firstly, people (both on the delivery team and stakeholders) will have ideas about how products and deliverables could be changed for the better, i.e. scope change requests will be generated.


Secondly, if work does not progress according to the baseline plans and it is not possible to take corrective action that returns to the baseline plans, a change request will have to be submitted that asks for a change to the baseline.

Completion reports

Completion reports confirm what work has been completed and accepted by the relevant stakeholder(s).
Back to control work process diagram
Projects and programmes
The application of the control work process must be tailored to the complexity of the project or programme.

Each function in the knowledge section of the Praxis Framework provides some guidance on dealing with control as complexity increases.
Small, non-complex projects will need a correspondingly simple approach to control. They will probably not include change management or benefits management, or use external resources that need to be procured and managed.
Cost control systems will be relatively simple as will the control of the schedule.

As the work expands and become increasingly complex, more functions are included and control systems need to become more sophisticated, both in terms of the techniques used and the procedures set out in the management plans.