The delivery phase of the life cycle is managed using three interconnecting processes: direct work, control work and control changes.

Click on diagram for detailed explanation of these processes.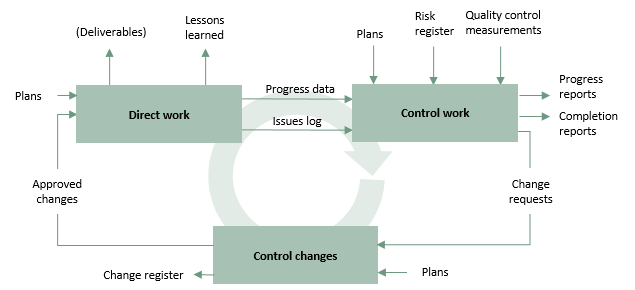 Direct work

This is the process that actually delivers outputs. It involves the delegation of work from the plans to individual staff, teams or contractors.


Progress data will be captured and fed to the control work process.


Note: Deliverables are not explicitly listed as an output of direct work in ISO21500 but it is clear from the text that they should included.

Control work

This process assesses and reports on progress, checks the quality of the outputs, instigates corrective action and, where necessary, issues change requests.


It is possible that poor progress cannot be corrected and the requirements of the business case can no longer be met. In this case control work may instigate a request to the sponsor to terminate the project or programme and invoke the close process.

Control changes

Change requests must be assessed for their impact on the business case. If they are deemed beneficial or necessary to deliver the project, they will be approved.