The ISO21500 procurement subject area contains three processes.
ISO21500 process groups
Initiating
Planning
Implementing
Controlling
Closing

Procurement

4.3.35 Plan procurements

4.3.36 Select suppliers

4.3.37 Administer procurements
Click on the diagram for more detail on each process.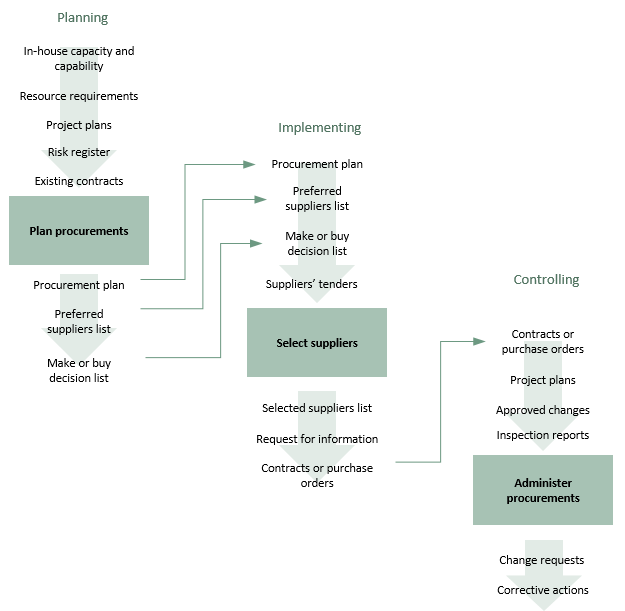 On many projects, procurement can be one of the primary functions. It can be a complex and wide ranging activity. In Praxis the activity covered by the three ISO21500 processes is distributed across three functions: solutions development, procurement and contract management.
Solutions development

Procurement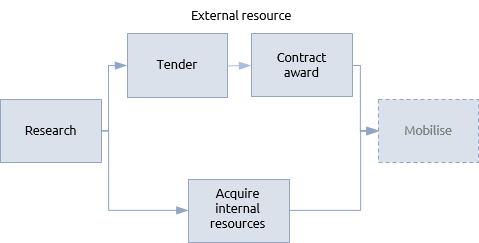 Contract management

Every procedure in Praxis has a 'plan' step (not shown above) in which the corresponding management plan will be produced.
Make or buy options are considered as part of the solutions development procedure.
Preferred suppliers are identified during the research step in the procurement procedure.
This process covers the development of an overall procurement management plan, the assessment of make-or-buy options and identification of preferred suppliers.

In that respect it is a comprehensive process with very little descriptive detail.
In this process, ISO 21500 states that:
information from suppliers must enable consistent evaluation of proposals against stated requirements;
all information submitted by suppliers must be reviewed and examined;
suppliers will be selected.
All aspects of project and programme management should be subject to ethical policies but procurement is perhaps the most obvious example of this. Communications with potential suppliers must be unambiguous and applicable with all legal and regulatory requirements.

Praxis covers these areas in the tender and contract award steps in the procurement procedure and the negotiate contract step in the contract management procedure.
The potential suppliers should be clearly informed of the way their bids should be submitted and the date by when they must be received.

The evaluation criteria must be clear and uniformly applied to all bids.

Once a supplier has been chosen it will be necessary to negotiate contract terms before finally confirming the appointment.
4.3.37 Administer procurements

This process covers the day to day management of the client/contractor relationship. It will include the monitoring of the contractor's performance and implementation of any corrective action.
In Praxis this is covered by the monitor and conclude steps in the contract management procedure.
Compliance with the contact terms will be monitored and in the unfortunate event that contracts are breached it will include conflict resolution mechanisms such as conciliation and arbitration.

Finally, this process will deal with the closure of a contract.