When the Praxis Framework web site went live on 1st May 2014, we had no idea what to expect. At the time, the mere fact that we had integrated multiple guides into a single open and free framework was enough. At least we had shown that it could be done (despite having been told many times previously that it wasn't practical).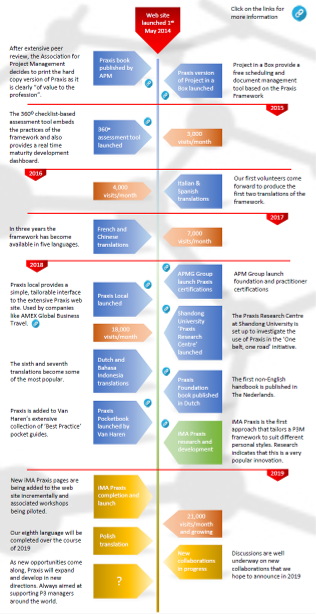 Praxis was set free into a world dominated by big business that was taking common sense project management, making it proprietary and commoditising it.

Five years later, so much has happened that we couldn't have foreseen. Thank you to all the contributors and volunteers who have made this possible. I'm sorry that you are too many to mention individually but you know who you are.

Our only real measure of success is the number of people who visit our web site, so please like or share this post (or both :-)) so that more people see what we are doing and hopefully more volunteer translators and contributors come forward.
It will be fascinating to see what the next 5 years hold in store.
Click on the diagram to see what we have achieved over the last 5 years (the pdf links to more detail)