Goal Directed Project Management (GDPM) is a pragmatic, light-touch, non-bureaucratic and people based approach originally introduced in the 1980s by a group of project management consultants1.

It not only improves effectiveness, but also increases the chance of project success through the use of a few simple techniques, templates and a small documentation set. GDPM can be used either as a stand-alone approach, in conjunction with the Praxis Framework or other methods such as PRINCE2™ or the PMBoK™.

GDPM focuses on the project end goal identifying what outcomes (not deliverables) are required rather than getting immersed in the detailed activities of how they will be achieved. It is a well tried and cost effective approach without the need for expensive systems, licences, qualifications, accreditation or extensive learning.

It is a highly interactive and collaborative approach, ensuring engagement of the sponsor, project manager and the project team. It is very effective when used in conjunction with the Praxis project definition process and sponsorship process.
Definition Process

Appoint definition team

The project manager and project team are collectively responsible for the delivery of the project - they are not just functional representatives. Together they work to develop and clarify the scope, objectives and end goal. They are also responsible for planning the project, assigning roles & responsibilities, and the management and control of project delivery. The core project team is normally between 3 and 7 people – 'Magic 7'. 

Define scope

No matter which project management approach, framework or methodology you adopt they all stress the importance of having a clear understanding of the project scope and objectives.  The first principle of GDPM is to put appropriate effort in at the start - to develop and form a collective understanding with the project sponsor, project manager and the project team of the project purpose, the boundaries, scope and end goal.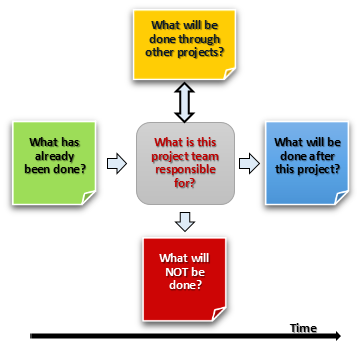 A simple 1 or 2-page project brief is used to articulate the project need or purpose, its fit with the company's strategic direction and expected benefits - the Why?
Active sponsor engagement is vital at this stage and is best done face to face at a project initiation workshop to ensure that the project team are clear on what is required. Use the 5 What's to determine the project scope and boundaries and develop the overall project end goal and underpinning SMART objectives and success criteria.
Once agreed with the sponsor and project team the project brief can also be updated and re-issued.

Teams often resist the creation of a clearly defined goal, objectives or success measures because they fear failure and prefer ambiguity - giving them the 'wriggle room' to manipulate 'successes' as the project progresses. The GDPM approach seeks to eliminate ambiguity, focusing on clarity and agreed success criteria.

Plan delivery

GDPM planning separates what is needed from how it will be delivered and emphasis is on collaborative engagement, rather than imposition, in the development of the project delivery / milestone plan.  "Those who deliver the project - plan the project". This increases the level of engagement, understanding and buy-in from the team as well as allowing ample opportunities to raise their issues or concerns. A good test of understanding is that anyone from the team can articulate what the project is about.

Many people get hung up on the use of terminology - particularly where milestones are used. In network diagrams, milestones are zero duration but in GDPM they are merely 'chunks' of work, (some call them work packages), that need to be achieved by a specific date and are expressed as outcomes e.g. "When the new billing system is ready for trial", rather than listing a series of deliverables. This also makes them more cross-functional rather than stovepipe deliveries and much more robust to change.
A facilitated creative brainstorm of all the things that need to be achieved, risks, issues and barriers provides the basis for developing the high-level milestone plan on a page. A single page makes it easier to understand as well as being an effective control and communications tool for senior managers. Where possible milestones should be evenly spread across the life of the project to ensure visible progress is seen and to maintain sponsor, key stakeholders and senior management interest.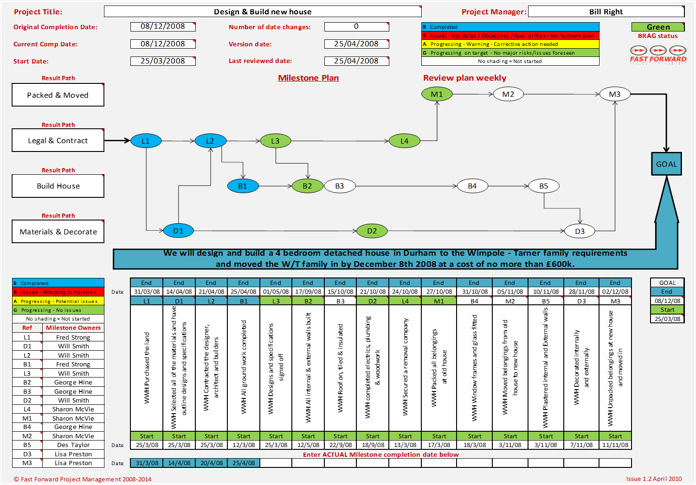 Each milestone has a 1-page definition sheet which defines the major activities, completion dates and their respective success criteria. This and the plan on a page is all that is really needed to monitor progress. No more % completion 'guesses' just clear and measureable outcomes and individual documents that can be controlled independently, reducing bureaucracy, paper and resource needed to maintain, up-issue and re-distribute.

Individual milestones will have supporting plans which define the detailed activities and tasks - the how. These may be in various formats such as MS Project®, Excel or just a simple list depending on the complexity of the milestone.
Rolling wave planning: where the overall project timescale is significant then its pointless planning to the 'nth' degree as we all know it will change as new technology, processes or organisations change. Define clearly what is needed upfront but defer the detailed planning of how until closer to the time.
The roles & responsibilities of the team are clearly defined using a responsibility matrix and resource contracts engage people in the project. The small and simple documentation set conveys all of the relevant information and makes it easier to maintain project control. Finally a multi-dimensional project health-check tool is used as the teams 'conscience' to ensure the project is set up and controlled effectively.

GDPM is a particularly effective approach when used to deliver business change, breaking down functional boundaries and engaging people from all areas of the organisation regardless of their project management expertise.  It focuses on those areas that significantly increase the chance of project success.

Project delivery is managed by the project manager and their core team using regular exception-based progress reviews - typically weekly. For each milestone the core project team assess whether it is still on track for delivery, or if not what action must be taken to bring it back on track and minimise the impact on subsequent milestones and/or the overall project goal and objectives.

In parallel to the delivery of the project milestones the project manager and core team use the project health-check tool to assess and initiate action plans to improve the effectiveness of their project management across multiple dimensions. These include the project plan, resources, ownership, business case, expertise, clear solutions and control.

Although each project is, by definition, unique they often suffer from the bureaucratic overload of applying the same methodology to all types and sizes of projects. This mechanistic approach can often be an end in itself where teams spend more time delivering the process rather than delivering their projects! As frustration grows management request more and more levels of planning detail which makes it difficult to see the overall picture and detracts from the activities which are needed to deliver. Collaboration and team working is the key ingredient for successful project delivery not a complicated and bureaucratic set of plans.
To make the project plan more robust risks are not managed in isolation.  Reduction or mitigation actions are pro-actively embedded into specific milestones allowing them to be monitored as part of the normal project progress reviews and reducing the need for separate risk review meetings.

To ensure supportive team working the milestone outcomes can be linked to individual or team objectives and performance reviews - ensuring only on completion of the agreed outcomes will the individuals be considered for recognition, reward or bonus payment.
Goal Directed Project Management 4th Edition, Kristoffer V. Grude, Erling Andersen and Tor Haug, ISBN: 0-7-494-4186-0
You can find out more about the practical implementation of GDPM from Fast Forward Project Management LLP:

Telephone: 07850 707965 / 07917 021987
Email: info@ffwdpm.com