This glossary contains definitions of many project, programme and portfolio terms but also lists all the processes and functions from PRINCE2TM, the PMBOK® guide, ISO21500, the APM BoK, PRINCE2 AgileTM , the APM's guide to Planning, Monitoring, Risk & Control and Praxis.
The glossary is available in the library section of Praxis and also as a pdf download. Click here to go to the online glossary and on the picture below for the pdf.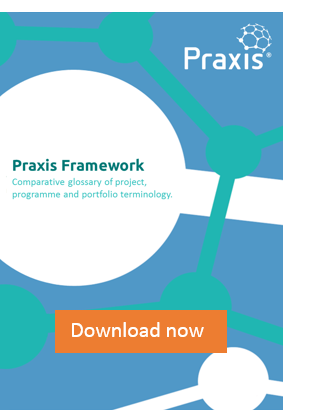 The processes, functions and terms from the various guides are compared so that you can easily see how your chosen terminology translates into the others.
The latest edition (v1.2), released in April 2016 now includes The US Government Accountability Office's Schedule Assessment Guide and Managing Successful Programmes from Axelos.
Previous versions are still available via the 'history' tab at the top of this page.

Future editions of the glossary will include Management of Portfolios from Axelos; the standards for program management and portfolio management from the Project Management Institute; ISO 21504 and others suggested by the community.

If you would like to know when the next edition is available, follow us on Twitter or contact us with the message 'glossary update'.
If you would like comment on any aspects of the glossary please use the comment button at the top of this page.

The glossary is covered by a Creative Commons licence so feel free to email it to your colleagues.