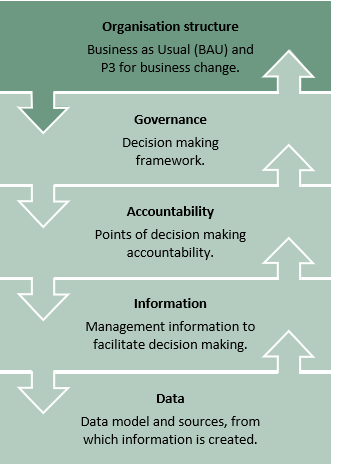 Full integrated governance is enabled when an organisation has clear, sustainable delegation and feedback mechanisms between those who develop the strategy, authorise the strategy, manage operations, formulate portfolios and deliver programmes and projects.

The top-level view of an organisation recognises vision, mission and strategic objectives, and accommodates the separate but related realms of BAU and the portfolios, programmes and projects (P3) that change the business.

In larger organisations these strategic portfolios might be broken down into sub-portfolios that are assigned to key organisational units or departments. However, the organisation structure alone is rarely adequate to illustrate how BAU and Change accountabilities are intertwined.
For example:
BAU management will decide how to achieve the targets it is given. These may be delivered through programmes and projects (for example, product development, customer contracts) or continuous delivery workstreams.

BAU structure and management methods may not be suitable for delivery of strategic change, which is why a dedicated change delivery structure is created.

Challenges span across the organisation structure and consist of problem solving and development of solutions. Innovation management approaches may be adopted and implemented through small projects. Challenges result in the definition of objectives or targets.
In essence, BIG's primary concern is the flow of information between role holders that enables decision making. It describes flows between organisational units, the purpose of those flows and their triggers. To exemplify, the model uses a general, idealised internal structure (shown below) that will have much in common for many organisations.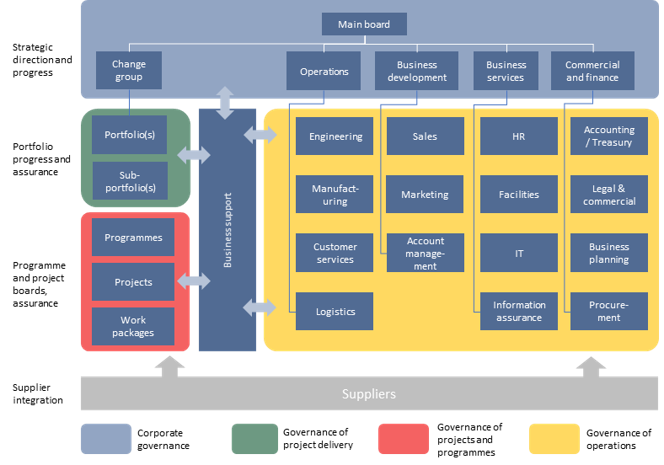 Thank you to the Core P3M Data Club for providing this page.