Praxis is a very extensive resource. Sometimes, you just need a simple guide to project management that links to extra detail as and when you need it.
Praxis local is a pdf file that summarises all the main functions and processes of project and programme management.
Hyperlinks allow you to move around and easily find the information you need.
It provides links to the Praxis Framework web site to access all the extensive supporting detail that is available including competencies, checklists and tools & techniques from the encyclopaedia.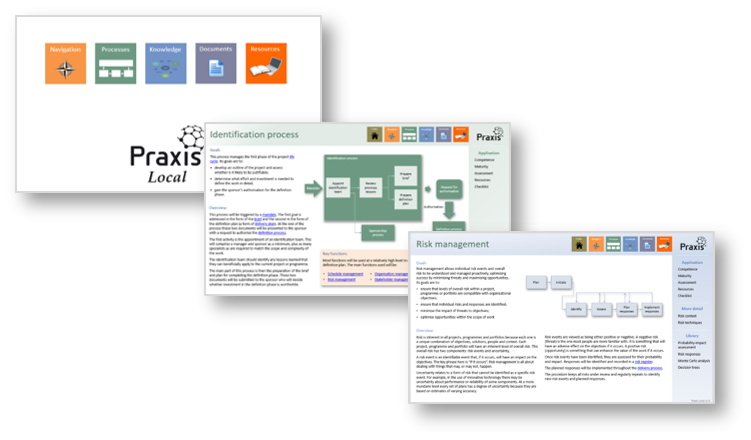 The pdf has been created using PowerPoint, so it is easy to edit and adapt for your particular circumstances. You can add more information from the Praxis web site or include links to in-house information (templates, guidance etc.) on your intranet and then simply 'save as' a pdf.

Just like the Praxis Framework, Praxis Local is covered by a Creative Commons licence, so you are free to make copies and distribute provided you recognise the source.
Download the pdf or PowerPoint files here
Praxis is community driven so if you have good ideas about how to edit, adapt or enhance Praxis Local, please let us know so that we can pass the message on to your fellow practitioners.
Date
Revisions

Version 1.0: 25th September 2018

Version 2.0: 8th June 2019

Links to iMA web pages added

'Additional Resources' page updated to include links to iMA, Case studies and Complementary guidance sections of web site.

Version 2.1:10th January 2020

iMA Praxis renamed Team Praxis.

Version 2.2: 19th November 2020

Links updated on last page to reflect new web site Library structure.

Version 2.5 23rd February 2023

Update with The Stationery Office as the publisher of the printed and pdf versions of Praxis Framework