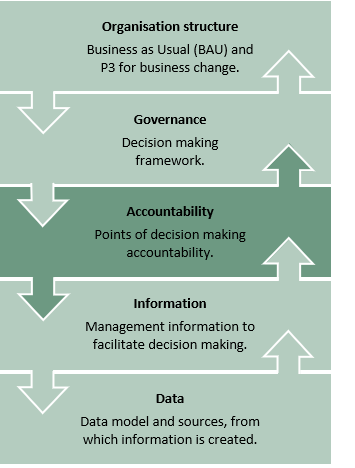 The term 'Governance nodes' refers to points of accountability across the BAU and Change parts of an organisation. Each node is assumed to be underpinned by a process based on an organisation's standards (e.g. for managing projects) which are themselves based on good practice. Accountability may come with reward or penalty and, therefore, must come with empowerment (authority to take action) and enablement (resources and funding).

Governance nodes can take a variety of forms, for example: an investment group; a programme; a product group; a service team.

For each of the nodes in this section an example is described that can be used either as a starting point or as evidence that the data model is based on a mixture of good practice and the experience of fellow professionals.

Nodes use information derived from data to provide governance consistent with their terms of reference. They may have many connections through which they listen and evaluate, take inputs and deliver outputs.

The nodes constitute an outline integrated governance model – from Main Board to portfolio to programme to project, offering assumptions for involvement of operational teams such as Finance, Business Support and Assurance.

For each Governance Node, the model comes with guidance that provides:
an overview and assumptions on matters that should concern those who are accountable;
a suggested 'agenda', which describes the matters that need to be addressed in order to process the inputs and create the outputs;
definitions of management information (MI) that support each element of the agenda;
a generic dashboard of key measures;
links to example MI;
links to supporting presentation material.
In the P3 domain the nodes included are:
Portfolio – portfolio classifications are defined and the ways portfolio management can reach its intended objectives through systematic governance are addressed.

Programme and Project - high level life cycle and implications for MI are referenced to enable practitioners to partner wider business governance nodes to work in harmony with BAU.
The wider business governance nodes are considered from a P3M point of view:
Main Board - who channel objectives and challenges into portfolio objectives that P3M professionals can deliver.
Management Teams - the sponsors of change, managers of resources and owners of outcomes and benefits.
Finance - providers of finance related assurance, support and performance measurement related to projects, programmes and portfolios.
Business Support (including a PMO) - who provide holistic support across the organisation.
Each governance node has different business to conduct at different times. It uses various processes to consider information and make decisions. This may include one-to-one meetings for individual progress, workshops and board type meetings to review performance and forecasts. Each governance node agenda has a general form as shown below.

The information that feeds the governance nodes requires information assurance to enable them to operate confidently.

Each node has a standing agenda and takes regular inputs to review. Using the assured MI it receives or accesses itself, it will make decisions and set. The node will also have irregular inputs that influence commitments and policy.

For each node, the agenda (regular and irregular items) defines the MI structure and the business data required. Organisations should orchestrate timely and reliable information that enables nodes to complete their agenda in a regular cycle. Each node should adapt the agenda and information to suit specific needs.
Thank you to the Core P3M Data Club for providing this page.