Context
The P3 management context has two aspects that can be likened to nature and nurture.
The nature aspect is referred to as the setting. This deals with factors that define the properties of a project, programme or portfolio. Some of these are concerned with the inherent nature of the work and others with the nature of the surrounding environment. It also addresses the complexity of the work being managed.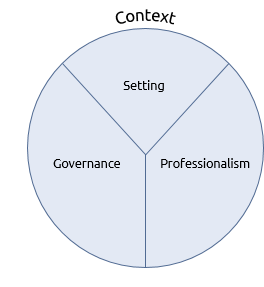 The setting is the primary factor that decides how the work will be governed.
For those involved in P3 management at a strategic level, the setting is created by external factors and is the starting point for them to nurture both the governance of specific projects, programmes and portfolios, and the profession that will deliver them.
Hence, context comprises three sections: setting, governance and professionalism.