If you are new to the idea of Team Praxis, please read our introduction to the concept before using the table below to improve your communications with team members, stakeholders and anyone else involved in your project, programme or portfolio.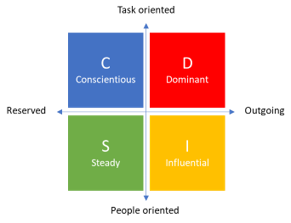 The goals of sponsorship are to:
provide ownership of the business case;
act as champion for the objectives of the project, programme or portfolio;
make go/no go decisions at relevant points in the life cycle;
address matters outside the scope of the manager's authority;
oversee assurance;
give ad-hoc support to the management team.
When implementing these goals people with different character traits would perceive sponsorship in different ways.
Concientious behaviour would typically propose or want to see:

a reserved, cautious and reflective leader who may only contribute when they believe they can add value or have a strong objection to a particular issue;

expecting others to be as prepared as they are during any interaction, having a structure agreed in advance that is followed and discussions focused on objective points;

wishing to work independently so would prefer individual rather than joint actions;

uncomfortable with conflict and will use logic to resolve the situation;

withdrawn and slow to act if conflict arises.

Someone exhibiting concientious behaviour would typically be perceived as:

a manger who is consistent, analytical and rational;

information that is precise and accurate and made available when decisions are required in a timely manner to give them comfort that delivery is proceeding as planned;

clear principles identified that are understood by all parties;

a review of the business case at agreed intervals or when a major change has occurred to check its validity;

an assurance approach that is comprehensively and rigorously applied and that ensures that there is total clarity regarding how decisions are made.

Dominant behaviour would typically propose or want to see:

a challenging, independently minded and decisive leader who will seek to deal with issues as quickly as possible without extended analysis or discussion;

comfortable making decisions and having a no-nonsense approach that is focused on the achievement of the objectives and delivery;

selective and intense involvement at critical phases and in particular when go/no go decisions are required during the lifecycle;

comfortable with conflict and can even thrive, and may push harder than other more passive profiles to assert their will and take control;

pushy and critical if conflict arises.

Someone exhibiting dominant behaviour would typically be perceived as:

a strong manager who they can rely on to deliver success and who is comfortable with being challenged;

information that is focused and to the point and which can be challenged;

the involvement of only key people necessary to make decisions and ensure delivery;

a business case with clear targets that will be challenging to deliver and ensures the maximimum value is obtained from the investment;

a focus on underlying causes and mitigating actions of risk rather than the detailed analysis;

assurance processes being followed and compliance to it being monitored through simple quantifiable measures with a focus on the risks to delivery.

Steady behaviour would typically propose or want to see:

an informal, approachable and patient leader that can be relied upon to provide support;

reserved and supportive and asking a lot of questions;

will be sympathetic to others' perspectives as well as being a good listener;

excellent at building strong 1-2-1 relationships and happy to provide input and guidance on an ad-hoc manner;

not wishing to tackle conflict head on rather seeking to create a calm and steady environment;

will help resolve conflict by being diplomatic and generally supportive;

indecisive and withdrawn if conflict arises.

Someone exhibiting steady behaviour would typically be perceived as:

a manager who they can build a strong and trusting relationship with;

information provided regularly that is robust and can be relied upon to make decisions;

a clear step-by-step approach and decisions being made with due care and consideration;

risk closely managed to ensure there are no shocks;

a business case that was consulted on, realistic in what can be achieved and when it can be achieved;

stakeholders suitably involved and given the opportunity to input to any decisions;

assurance being done in a way that assists and supports the team including ensuring responsibilities are clearly articulated.

Influential behaviour would typically propose or want to see:

an informal, collaborative and optimistic leader who would be an enthusiastic champion for the change;

diplomatic, energetic and vocal;

comfortable with a broad range of topics being discussed and different opinions and options explored with stakeholders in the decision making process;

generally comfortable with conflict and aware of the social dynamics of a situation and will look for alliances to be formed;

defusing conflict with humour and may appear opinionated and impulsive in such situations.

Someone exhibiting influential behaviour would typically be perceived as:

a manager who is enthusiastic, fast paced, flexible and open to opportunities;

the team willing to have them take a hands-on approach especially around decision making;

a broad range of information being provided based on which they can come to their own conclusions;

the involvement of a broad range of stakeholders to ensure different perspectives are considered and openly discussed;

a business case which has considered all reasonable options, delivers at pace and communicates a compelling vision;

the consideration not only of threats but also opportunities when risk is being discussed;

assurance being carried out with a range of stakeholders on the project, potentially through a workshop structure and not requiring absolute compliance to standards.
Thanks to Donnie MacNicol of Team Animation for providing this page.