The topics in this section do not directly address the fundamental components of delivery, i.e. scope, schedule, cost, risk, change and resource. They are integrative functions that act across those components.

The overall goals of the integrative management functions are to:
plan all aspects of the work;
develop and maintain the justification for the work;
monitor and control performance;
ensure information is accurate, current and accessible;
establish and maintain a management team;
identify and communicate with people affected by the work;
ensure that the management of the work is relevant and effective.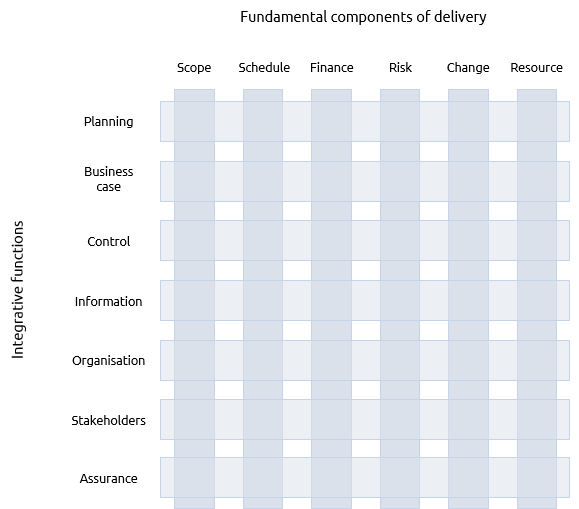 Each integrative function brings together aspects of the fundamental delivery components.

The planning function has two purposes. Firstly, it sets out the policies for managing the fundamental components. Secondly, it defines and estimates what needs to be done, how it should be done and when it should be done. Every delivery procedure has an explicit 'plan' step but re-planning is implicit throughout.

The control function takes the outputs of planning as a baseline and tracks what actually happens against what was planned to happen. Control methods are normally focused on dealing with deviations from plan and attempting to return to plan. However, control also involves assessing whether to terminate work that is no longer justifiable.
Control is implicit with the specific steps of each delivery procedure.

The planning and control functions create a large amount of information covering the content and governance of the work. This needs to be created, updated and communicated effectively for planning and controlling the work through formal information management.

The business case is the key document for projects and programmes. It states why they are worth the investment. Preparing a business case requires the summarisation and integration of information from all the fundamental components.

There are many people involved in a project, programme or portfolio, and while some are directly involved in managing or performing the work, others are simply affected by it. Organisation management describes the management team and its roles and responsibilities while stakeholder management explains how people who are involved in, or affected by, the work in any way must be identified and engaged.
As part of the sponsorship role, a sponsor has to ensure that the work is being managed according to the policies and procedures set out when the work was approved. This is achieved through assurance.