Support should: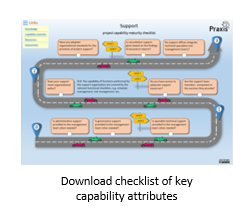 provide administrative support to P3 managers;
support the governance of P3 management;
provide specialist technical support;
conduct assurance.
Indicators
Level 2 attributes

There is a multitude of ways in which a support infrastructure can be constituted and it would be misleading to suggest that one set of indicators and attributes represent good practice in P3 support.

More than any other, this capability should be seen as a starting point for the development of a capability that matches the way support is constituted in any given organisation.

Administrative support

Resources are available to provide assistance that allows P3 managers to spend more time on management rather than administration.

Support of governance

Resources are available to assist in the development of management plans and maintain lessons learned.

Technical support

Technical specialists in different P3 management functions are available to provide advice and guidance.

Assurance

Resources are available to conduct assurance reviews and audits.

Indicators
Level 3 attributes

Administrative support

Support offices are constituted at appropriate levels for projects, programmes and portfolios within the host organisation.

Support of governance

Support offices provide assistance in the development of the discipline and profession of P3 management.

Technical support

Technical specialists are integrated into P3 management teams as experts in specific functions.

Assurance

Assurance resources provide consultative support to P3 management teams who need to act on the findings of assurance reports.