Resource management should: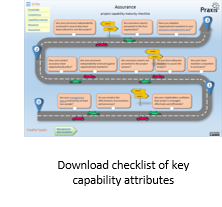 determine the best way to resource the work;
acquire and mobilise the necessary resources;
control resources throughout the life cycle;
demobilise resources at the end of the life cycle;
finalise all contractual arrangements.
Indicators
Level 2 attributes

This resource management capability summarises the capabilities for the functions that make up resource management.

If the project or programme makes use of both internal and external resources, and involves letting contracts for goods or services, it would be more appropriate to use the individual capabilities.

Procure

A procurement procedure exists to identify suppliers and acquire resources.

Mobilise

Plans exist to show how the infrastructure will be mobilised and these plans are implemented.

Control

Resource usage is monitored and plans updated accordingly.

Close

Demobilisation is planned.

Indicators
Level 3 attributes
Procure

Standard procedures are tailored to suit the context of the work. External resources are acquired through tendering and contract terms are negotiated.

The management team work with operational departments to agree service levels for internal resources.

Mobilise

The infrastructure is adjusted throughout the life cycle and mobilisation is performed at the beginning of each stage or tranche.

Control

Plans for consumable resources are reviewed regularly and estimates revised.

Capital assets are maintained throughout.

Close

Staff are formally re-deployed, the value of capital assets is realised and contracts closed formally.