Procurement should: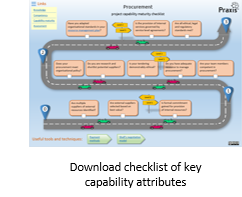 identify potential external suppliers;
select external suppliers;
acquire commitment to provision of internal resources.
Indicators
Level 2 attributes

Procurement is something that can, and often is, performed relatively informally. This is especially the case with internal resources.


The difference between level 2 and 3 is the formality with which the procurement is conducted and documented. Formalised procurement is a classic 'insurance' activity. It probably won't be valued until something goes wrong.

Programme level procurement is often about economies of scale. This will mean that some procurement responsibility is not devolved to projects and therefore requires high levels of co-ordination at the programme level.

In these circumstances, contracts may be 'framework agreements' which allow programme level negotiation with project level scheduling.

Research

Research is conducted but often limited to known suppliers.

Tender

Tendering procedures exist but are informal.

The approach is demonstrably legal and ethical.

Contract award

Contract award may comprise a relatively simple exchange of letters.

Acquire internal resources

Internal resources are acquired on an informal basis with negotiations between the management team and line managers being conducted on an ad-hoc basis.

Indicators
Level 3 attributes
Research

Thorough research is conducted and may be based on organisation-wide framework agreements.

Tender

Tendering activity follows a formal procedure tailored to the context of the work.

Contract award

Contract award includes formal negotiation of terms and conditions. An audit trail of the procedure is available to demonstrate that ethical, legal and regulatory standards have been met.

Acquire internal resources

The plans for internal resource usage are discussed with line managers in the early phases of the work. Service level agreements formalise the commitment of departments to provide internal resource.