Change management should: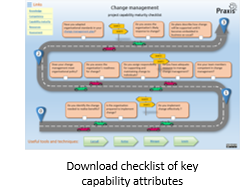 define the organisational change required to convert outputs into benefits;
ensure the organisation is prepared to implement change;
implement the change and embed it into organisational practice.
Indicators

Level 2 attributes

Capability in change management cannot be achieved by the P3 organisation alone.

Inevitably, it will involve people in business-as –usual who do not regard themselves as part of the project, programme or portfolio.


Level 2 is likely to be sufficient for projects implementing non-complex change.

Level 3 is an important goal for programmes with complex objectives.

Assess

The areas of the organisation that are subject to change are assessed for their readiness to change.

Prepare

Change plans are communicated and stakeholders are influenced to support change.

Implement

Change is implemented in accordance with the organisation's readiness and change plans.

Progress is monitored and communicated.

Sustain

Representatives of organisational areas that have changed are assigned responsibility for supporting and maintaining new management processes and behaviours.

Indicators

Level 3 attributes

Assess

The underlying characteristics of the organisation are assessed and the likely reaction to change is predicted.

Prepare

Preparation for change is clearly sensitive to the characteristics of the organisation and takes predicted responses into account.

Implement

Individuals affected by change are supported and the approach to change is amended as work proceeds.

There are clear links between the control systems within the project, programme or portfolio and the control systems within the organisational area subject to change.

Sustain

Plans exist describing how change will be supported until it is deemed to be embedded in business-as-usual.

The effectiveness of change is periodically assessed alongside benefits realisation.