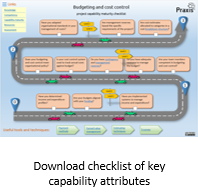 Budgeting and cost control should:
determine the income and expenditure profiles for the work;
develop budgets and align with funding;
implement systems to manage income and expenditure.
Indicators
Level 2 attributes

At level 2 a more qualitative approach to estimating is allowable for less complex projects. The key factors are that the detailed estimating is performed and the reserve budgets exist.


Actual vs. budget reports may be based purely on total expenditure and not broken down further.

At level 3 the management team should be able to report on costs in multiple ways and demonstrate that reserve budgets have been quantitatively estimated.

Refine base estimates

Cost estimating is performed bottom up for all aspects of delivery.

Estimate reserves

Sums are set aside for contingency reserve and management reserve.

Accounting control

Cost control systems are able to track actual costs in multiple categories and report these against baseline.

Indicators
Level 3 attributes
Refine base estimates

Cost estimates are allocated to categories of cost in a cost breakdown structure.

Estimate reserves

There is a quantifiable link between the risk responses and the contingency budget.

Management reserves are based on previous experience and analysis of the specific requirements of the project or programme.

Accounting control

Cost control systems are able to track and report by cost attribute, category and steps in the payment process.