Organisation management should: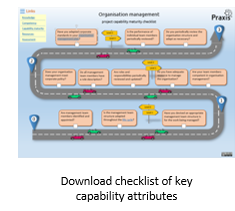 design an organisation appropriate to the scope of work to be managed;
identify and appoint members of the management team;
maintain and adapt the organisation throughout the life cycle.
Indicators
Level 2 attributes

At level 2 members of the management team are often assigned based purely on availability rather than through a selection process (which is a characteristic of level 3).

Initiate

An organisation structure is designed, team members are assigned and roles are documented.

Maintain

Ad-hoc and reactive adjustments are made to the management team.

Close

Members of the management team are released back to business-as-usual.

Indicators

Level 3 attributes

Initiate

A procedure is followed that identifies potential team members and follows an appropriate selection process.

Maintain

The organisation is formally reviewed at appropriate points in the life cycle with structure adapted and roles adjusted as necessary. New appointments follow the selection process.

Close

The performance of management team members is reviewed and communicated back to line managers.