Scope management should: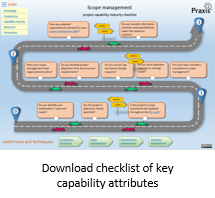 identify stakeholder wants and needs;
specify outputs, outcomes and benefits that meet agreed requirements;
maintain scope throughout the life cycle.
Indicators

Level 2 attributes

This scope management capability summarises the capabilities for the functions that make up scope management.

As it stands this capability is suited to an organisation that runs less complex projects that include benefits management.

In situations where an organisation doesn't operate all the scope management functions (e.g. a contracting organisation) or where scope is complex (e.g. business change programmes), it will be better to use the relevant individual scope management functions.

Manage requirements

Requirements are captured from key stakeholders.

Develop solution

A solution is developed from the documented requirements.

Implement solution

Change requests are logged and assessed with results communicated to the requesting stakeholder.

Version control of products is maintained.

Manage benefits

Benefits are identified, documented and their implementation is planned.

Indicators

Level 3 attributes

Manage requirements

A variety of techniques are used to capture requirements from all stakeholders, fully analysed and baselined.

Develop solution

There is evidence that a range of solutions have been considered and the specification is thorough.

Implement solution

Change requests are logged and all aspects of their impact on the work thoroughly assessed.


Responsibility for change approval is clearly defined and budgets allocated.

Where appropriate the development of products is recorded within a configuration management system.

Manage benefits

Standard format profiles exist for benefits and dis-benefits. Quantitative metrics are used to confirm the achievement of benefits.