Also known as 'simultaneous engineering' or 'integrated product development', concurrent engineering is an approach that utilises parallel project life cycles to speed up product development.

It evolved during the late 1980's and in 1992 an article in Machine Design1 illustrated it with this simple diagram.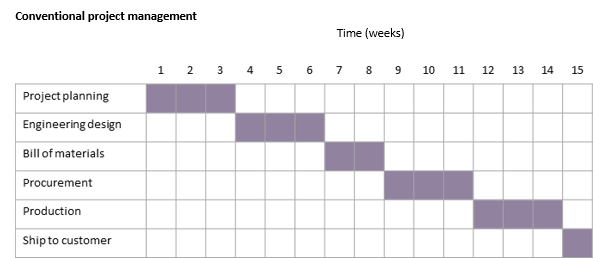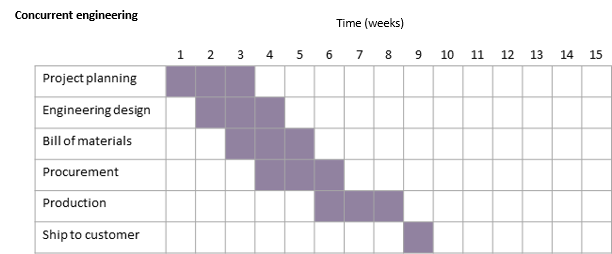 This demonstrates that in Concurrent Engineering the different phases of the project life cycle overlap. It is not necessary to complete one phase before starting another. But concurrent engineering is not just about schedule compression. Using the highly parallel life cycle only works if individual engineers are given much more influence and authority in the design process and the whole team work collaboratively.

The resulting sense of 'ownership' improves motivation, productivity and the quality of the end product. This is probably best summed up by the European Space Agency that describes Concurrent Engineering as:

"… a systematic approach to integrated product development that emphasises the response to customer expectations. It embodies team values of co-operation, trust and sharing in such a manner that decision making is by consensus, involving all perspectives in parallel, from the beginning of the product life-cycle."2

Within the overlapping phases of the life cycle will be a series of iterations that still follow the basic principles of the Shewhart cycle (Plan, Do, Check, Act):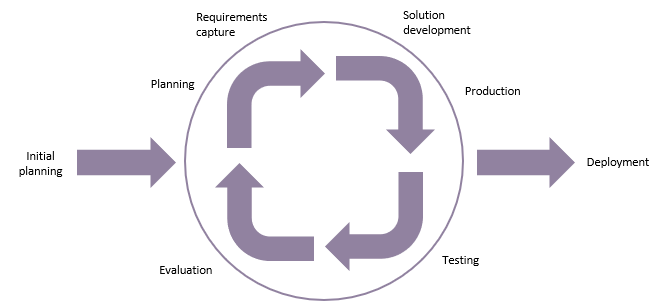 There are many similarities between Concurrent Engineering and agile development as described by the Agile Manifesto (which arrived some 10 years later). One of the main differences is that Concurrent Engineering emerged from the manufacturing and engineering industries whereas the Agile Manifesto is clearly focused on software development.

The practicality and cost of change in these industries is different. In 'hard' products, like bridges or spacecraft, it is increasingly impractical and costly to make changes once construction has started. The iterative and collaborative working is more focused on the design elements of the project life cycle – although this involves people from the construction phase in the multi-disciplinary team.

In 'soft' products, like software applications, it is much more practical to make changes in the latter phases of the project. Hence this sort of agility can be maintained further into the project life cycle.
D. E. Reinertsen, "The Mythology of Speed", Machine Design, 26th March 1992
European Space Agency: What is concurrent engineering