The influence model was created by Alan Cohen and David Bradford for their book 'Influence Without Authority'1. It comprises six steps: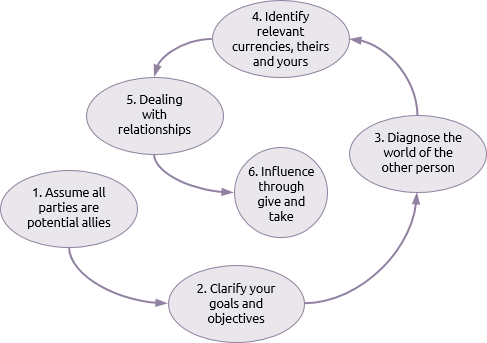 The first step is to "assume that all parties are potential allies". While this may be a reasonable assumption in some contexts, a P3 manager will rely on stakeholder management to assess stakeholders. This should render any need to make assumptions obsolete but it can still be useful to assume that an unsupportive, or openly antagonistic, stakeholder can be turned into a supporter with the right information.

Secondly, the model advises that goals and objectives should be clarified. This is fundamental to P3 management and is what functions such as requirements management and solutions development are all about.

The third step, harks back to stakeholder management and the analysis of stakeholders in particular. The P3 manager needs to understand why a stakeholder has the attitude towards the work that they do, and act upon that understanding.

A 'currency' is what someone values. Some people may be direct beneficiaries of the project or programme's benefits. To others it may simply be that they are being paid to provide a service; some may gain from the experience of being involved in the work. Currencies are very personal and don't underestimate their value to others if they don't seem valuable to you.

This step is about knowing the person who you wish to influence and developing a relationship of mutual trust.

The final step uses what many believe is the most powerful of Cialdini's 'six universal truths' – reciprocity. Ultimately, most stakeholders are influenced to support or oppose a project or programme based on what effect it will have on them. If someone's support is needed then hopefully they will receive something in return.
One of the problems with any discussion about influencing is that it can sound manipulative. While it is important to be able to influence it is also important to act professionally and ethically.
Cohen, Allan R, and Bradford, David L, (2005), Influence Without Authority, Wiley, Hoboken, New Jersey.