Frederick Hertzberg first described his two-factor theory in his book 'The Motivation to Work'1. In it, he identified the principle that the factors that create dissatisfaction at work are not the same as, and not opposite to, those that create satisfaction.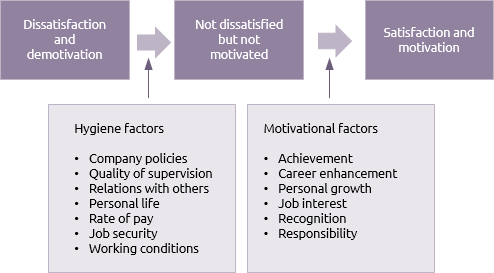 Hertzberg identified job dissatisfiers (also known as hygiene factors) and job satisfiers (also known as motivational factors).

Hygiene factors


The absence or failure of hygiene factors (e.g. overbearing company policies; poor pay; low job security) leads to satisfaction but does not motivate. When the hygiene factors are all satisfactory, a team member will be 'not dissatisfied' but will also not be especially motivated.


Hygiene factors remove dissatisfaction but do not motivate.


Motivational factors


To create a feeling of motivation rather than just a lack of dissatisfaction someone needs to have, for example: work that interests them, the opportunities for personal achievement and recognition.


Motivational factors provide motivation for those who are not dissatisfied.
Hertzberg's ideas bear a close relationship to Maslow's levels and highlight the same issues with regard to a P3 manager working in a matrix organisation, i.e. a P3 Manager will not necessarily have a great influence over the hygiene factors but, for the duration of the work, should have greater influence over some of the motivational factors.

This could lead to the difficult situation where a P3 manager has the job of motivating a team made up of dissatisfied people. Hertzberg could be seen as a good argument for a strong matrix where the P3 manager has more control over both hygiene and motivational factors.
Hertzberg, Frederick (1959) The Motivation to Work, Wiley, New York.