In his 1996 book Timothy Galpin1 identified nine steps in managing change. He arranged these as nine segments

Underpinning each segment of the model is the need to understand the culture of the organisation. Galpin identifies this culture as being reflected in its rules, policies, customs, norms, ceremonies, events, rewards and recognition.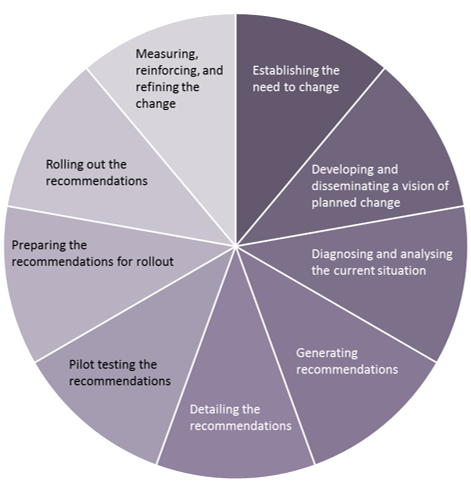 He maintains that for change to be successful, it must be addressed at two levels: strategic and grassroots. The strategic level includes executives and senior managers, while grassroots refers to the activities that drive change deep into the organisation and ensure the change is embedded at a local level.

Had Galpin addressed P3 management specifically, he would no doubt have linked 'successful change' with the realisation of benefits defined in a business case.
Timothy J. Galpin, 1996, The Human Side of Change: A Practical Guide to Organization Redesign, John Wiley & Sons