Frederick Hertzberg beschreef zijn 'two-factor theory' voor het eerst in zijn boek 'The Motivation to Work'1. Daarin identificeerde hij het principe dat de factoren die ontevredenheid op het werk creëren niet dezelfde zijn, en ook niet tegengesteld zijn, aan die tevredenheid creëren.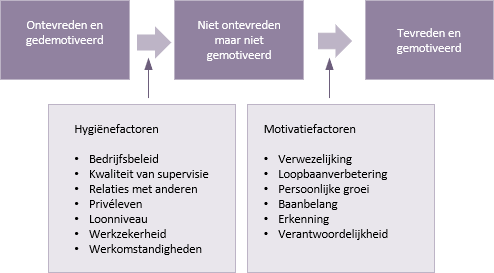 Hertzberg identificeerde 'dissatisfiers' (ook wel hygiënefactoren genoemd) en 'satisfiers' (ook wel motivatiefactoren genoemd) met betrekking tot het werk.
Hygiënefactoren (dissatisfiers)

De afwezigheid of het falen van hygiënische factoren (bijv. overheersend bedrijfsbeleid; slechte beloning; lage werkzekerheid) leidt tot tevredenheid maar is niet motiverend. Wanneer de hygiënische factoren allemaal bevredigend zijn, zal een teamlid 'niet ontevreden' zijn, maar ook niet bijzonder gemotiveerd.

Hygiënische factoren nemen ontevredenheid weg, maar motiveren niet.

Motivatiefactoren (satisfiers)

Om een gevoel van motivatie te creëren in plaats van alleen maar een tekort aan ontevredenheid heeft iemand bijvoorbeeld nodig: werk dat hem interesseert, de mogelijkheden voor persoonlijke prestatie en erkenning.

Motivatiefactoren zorgen voor motivatie bij mensen die niet ontevreden zijn.
De ideeën van Hertzberg hangen nauw samen met de niveaus van Maslow en belichten dezelfde issues met betrekking tot een P3-manager die in een matrixorganisatie werkt, d.w.z. een P3-manager zal niet noodzakelijk een grote invloed hebben op de hygiënische factoren, maar zou voor de duur van het werk meer invloed moeten hebben op enkele van de motiverende factoren.
Dit kan leiden tot de moeilijke situatie waarin een P3-manager de taak heeft een team van ontevreden mensen te motiveren. Hertzberg kan gezien worden als een goed argument voor een sterke matrix waarin de P3-manager meer controle heeft over zowel hygiënische als motiverende factoren.
Hertzberg, Frederick (1959) The Motivation to Work, Wiley, New York.
Met dank aan het BPUG-team voor de vertaling naar het Nederlands