by Robert Buttrick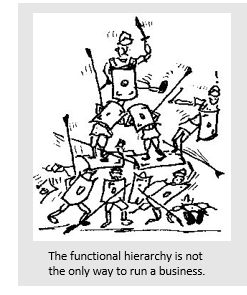 If what people do counts more than the function or department they belong to and if, for reasons of efficiency, you want to use people to best effect anywhere in your organisation, what is the role of the functions? You know that no change, which is significant to a whole business, can be made within a single function in an organisation. You generally require people from a number of areas contributing to the processes, activities and projects you are undertaking.

In the traditional hierarchy, each head of function decides not only the strategic direction of their function, but also what each and every one of his/her employees will do and how it will be done. The danger, if functions are too dominant, is that they will drive the business as they see fit from their own perspective. This may not be in line with the drivers that the organisation's leadership wants to effect. The outcome is that the organisation becomes out of balance.

For example, efficiency is often seen as a good goal. So is responsiveness to customer needs. However, the latter may require you to carry excess capacity in order to meet customer needs at short notice. If one function is driving 'efficiency' up by reducing capacity while another is creating a proposition around responsiveness there is likely to be a mismatch and dissatisfied customers.

The projects approach, like the trend towards cross-business processes, aligns all the required skills and capabilities around the attainment of a business objective. In the case of a process, the objective is better operations. In the case of a project, the objective is change for the better. Thus, the functions are not leaders in driving the business, but rather suppliers of people and expertise to projects and processes.
The accountability of a head of function is to ensure that the right people are available in the right numbers to service the business needs. They will be accountable for pay, employee satisfaction and personal development. Other key roles will start to become apparent. There will need to be those, expert at particular disciplines, who will create strategy, develop and maintain technical architecture, manage projects, or manage people.
However, they will not do this just in the context of a single function, but rather in the context of the complete organisation, working wherever needed across functional boundaries to achieve the business objectives . . . . and that is where portfolio management comes in.
© Robert Buttrick