Capability Maturity Models are used as a means of improving an organisation's processes. They can cover any aspect of an organisation's operation and over the years various models have been developed for the project and programme management arena - such as the original CMMI-Dev, the PMI's OPM3 and P3M3 from Axelos.
An organisation's approach is usually to have a set piece assessment against their chosen model, which typically positions the organisation on a four or five step ladder. The lowest level represents a somewhat chaotic approach while the top level indicates a well oiled machine that is operating effectively and efficiently.

The initial expensive and time consuming assessment invariably reveals that the organisation is not where it wants to be. To improve the organisation's maturity, the next step is invariably to set up a change programme aimed at embedding good practice and changing behaviours.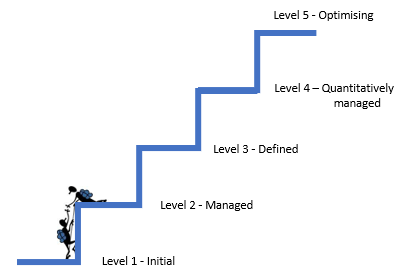 Here's where the irony starts to become evident. Programmes of organisational change are not simple. An organisation really needs to be at least at level 3 in order to manage one with any significant chance of success. But in this case the programme is initiated precisely because the organisation is not at level 3.

But organisations persevere and they work their way though the change programme whose objective is to improve their project and programme management. In order to establish whether the programme worked, they then perform another expensive and time consuming assessment, which often reveals that they arestill not at their desired level.

There is a simpler way.

We know what the practices are that will lead to higher levels of capability maturity. We can also assume that the organisation needs to improve, so we can skip the assessment and move straight into improvement mode.
Read more about the Praxis Framework Capability Maturity self-assessment tool here.
This involves behavioural change but let's not phrase it in that way. Let's just give people the tools that help them do their job better.
Embedding knowledge talks about using checklists to help people implement the good practice they have learnt. In the Praxis Pathway, these checklists are based on a recognised Capability Maturity Model. This means that by helping people implement good practices, we are also building organisational capability maturity.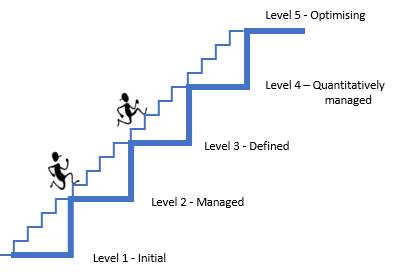 The Praxis checklists automatically feed into a project, programme or portfolio capability maturity assessment.
Organisational maturity is delivered organically, iteratively and incrementally. The approach recognises that different teams, projects and programmes will progress at different rates, and progress cannot be uniform across the organisation.
The result is a real time dashboard of capability maturity across the organisation that is updated with each small improvement action. Improvement action and resource can be focused where it is needed, rather than ageneralised blanket approach. It also means there us no need for expensive set-piece assessments and no need to frighten everyone with yet another difficult programme of business change.