For those unfamiliar with the term, herding cats is an idiom denoting a futile attempt to control or organise a class of entities which are inherently uncontrollable - as in the difficulty of attempting to command a large number of cats into a group (i.e. a herd). An occurrence that is not too dissimilar to programme or project management, particularly when trying to align the direction, management and delivery management layers to successfully deliver strategic intent and the realisation of financial and quantifiable benefits.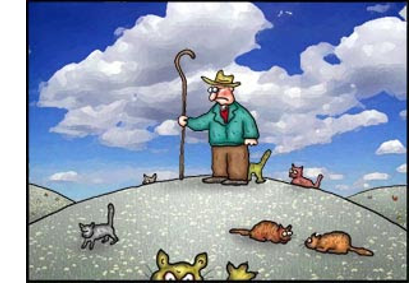 Cats, of course, unlike herd animals prefer to go their own way much like humans in organisations. Although organisations want and need, as the name implies, to organise people toward common goals, particularly when changing the business, the reality is that most people have their own ideas, agendas and preferences. Which is why, when you have a business change programme or project – with many team members who have disparate skill sets and personalities finding the right leader good enough to herd cats is of critical importance. This equally applies to both the key decision maker and programme/project manager roles respectively.
Given the speed of change in business is constantly increasing, key decision makers must learn quickly how to ensure their teams are pursuing the same vision, identify how their team best performs, and then adapt their approach accordingly. In addition to the increased pace of change in business, shifts in methods, management trends, and pressures from a multi-generational workforce with its multi-generational attitudes require new leadership approaches to manage effective teams. Different from the more traditional hierarchical style of management, principled leadership empowers a programme/project team to think outside the box, take ownership, and be innovative, while still holding the business to a standard of excellence and ethics.
This innovative leadership style is an initiative that aligns an organisation's people and business change initiatives more closely with its strategy and vision. By understanding the trends, challenges, and make-up of a programme/project team, the direction and management layers can then learn how to become more successful at leading their programme/project team to a successful end result by delivering the agreed outputs and capabilities while enabling the outcomes and benefits.
Ultimately, effective business change (where the customer's vision for change is delivered) is not a competition and the prize isn't always about getting across the finish line first. Effective cat herders, therefore are those who can bring co-acting people together to perform an invaluable service. Adept cat herders can:
Deftly bring together people for a common purpose. A successful and productive team works together to achieve the same goal; this is also often the reason as to why the team is successful – because each individual is working towards achieving the same target. There are a number of methods of bringing people together; but the method that you choose must depend upon the individuals within your team and what will suit them best and work in their best interests.
Make individuals set aside personal goals and replace them with team goals. Engagement is essential to keep an organisation growing and reaching for its vision. When there is a lack of employees recognition, employees lose track of their purpose. It's not easy to translate large, wide-reaching organisational goals into smaller, everyday tasks and not lose sight of the big picture. But it's not impossible, either. Consistently checking in with employees individually, recognising their efforts and reminding them of their purpose is what constitutes a successful organisational goal-alignment strategy.
Help people collaborate to enable individuals to work together to achieve a defined and common business purpose. Collaboration relies on openness and knowledge sharing but also some level of focus and accountability on the part of the business that is undergoing the transformational change. Collaboration is indeed the answer to many of today's most pressing business challenges. But more isn't always better. Leaders must learn to recognise, promote, and efficiently distribute the right kinds of collaborative work, or their teams and talent will bear the costs of too much demand for too little supply.
Synonymous with all good leaders is the ability to communicate a shared vision with intention that sets direction and leads to goal. There are many aspects of programme and project that can help those at the direction, management and delivery layers better deal with their team of cats, starting with the leadership approach, the governance controls, and the communication approach with the various stakeholders. And this is what herding cats is about!