by Donnie MacNicol
Following on from my previous article Key interventions for personal development here I reference the different activities and discuss how you identify which type of activities are best for you and your personal development.

Click here for more articles on learning and development.
Some key questions to consider are:
Which activities are available to me immediately?
Which of these activities would be most beneficial to reaching my objectives for the next 12 months?
Which channels will work best for me?
You need to answer the first 2 questions yourself based upon your personal situation and knowledge, however the information to help answer question 3 is outlined below, and can be found in more detail in Project Leadership 3rd Edition.

To begin with you need to decide the extent of two things:
The involvement of others – the level of interaction you prefer to have with others when gaining new skills.
The use of materials – the quantity of materials you prefer to use when gaining new knowledge.
Once you have a rough idea you can use the diagram to identify activities in a certain quadrant that you will be most comfortable with. However given you need to be adaptable and resourceful to be successful, you should also consider other quadrants and options which may be helpful in achieving your development goals.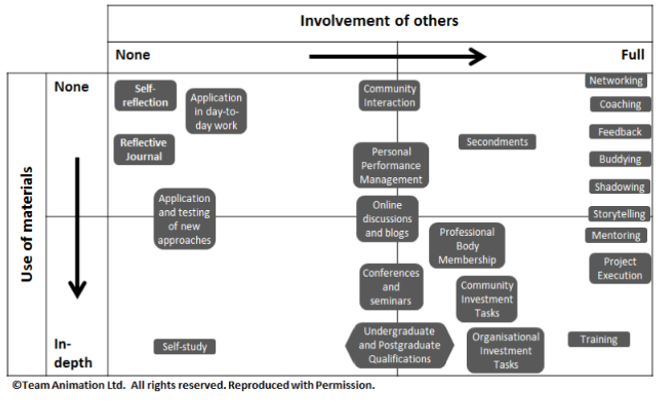 Please refer back to the previous article for a detailed description of each of the activities listed on the diagram.

Once you have identified a range of activities that are your preferences for your personal development, you need to make them happen in order to realise the value. This can be done through the "3Es development model".
Experience – proactively seek opportunities by speaking to colleagues, making them aware of your development needs, requirements and availability.

Evaluation – identify the greatest areas of opportunity to further your development. This can be done by using competency models or performance management processes your organisation may have so can align your areas to develop, with the skills your organisation look for.

Education – gain new knowledge and skills required to be successful, which can be done through the many different types of activities mentioned in the diagram and previous article.
Hopefully by identifying activities that you are both comfortable with, as well as some that may push you out of your comfort zone, you can start to build an action plan to further your personal development.