The book Cultivating Communities of Practice: A Guide to Managing Knowledge (2002) by Wenger, McDermott and Synder defines communities of practice as "groups of people who share a concern, a set of problems, or a passion about a topic, and who deepen their knowledge and expertise in this area by interacting on an ongoing basis".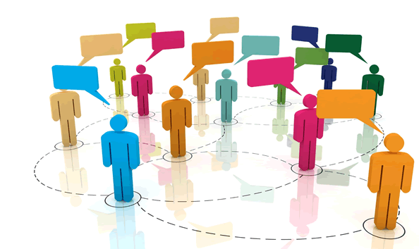 With this in mind, the business need to establish an effective community of practice is not new. The need for adaptive organisations to become more intentional and systematic about managing knowledge has however reached a critical juncture for any organisation, dealing with transformational change in the age of digital disruption, to give these structures a new pivotal role at the heart of the business operating model.
Based on the Praxis Framework guidance, the value in establishing communities of practice within any organisation is to:
share data, information, knowledge and wisdom that helps people working with and within programmes and projects develop their knowledge, skills and capabilities.
helps the organisation to collectively mature and improve in the direction, management and delivery of programmes and projects.
promote innovative thinking that comes about through shared experience and learning.
So let's explore the three critical elements identified by Wenger, McDermott and Synder and their application needed to establish an effective community of practice as a central knowledge source for any organisation interested in improving its people and project portfolio management practices. The three structural elements begins with:
1. Domain
The first and crucial element is about creating a common identity, meaning, purpose and value. It inspires participation and mutual exploration amongst its membership. Communities of practice, interest or masterclass forum or whatever the structure is called or referred is not important, but fundamentally consists of members who interact with each other in the pursuit of a common portfolio, programme and project management industry best practice or innovative ideas for continuous improvement. It is this collective social practice that links like-minded individuals together across organisational and functional office boundaries that makes up this professional community.

Many mature organisations have these in place, where particular topics of interest or ideas are discussed by thought provoking professionals who think outside the box. The forum is typically open to anyone in the organisation. It's a great opportunity for any experienced or budding project portfolio management professional to learn from others and to adapt their thinking and ways of working to ultimately improve portfolio, programme and project success and delivery practices within an organisation.
2. Community
The second element is about creating the social fabric of learning, fosters mutual respect and trust, willingness to share, ask, listen, be open and courageous. It's where the community draws its participants and it makes clear to everyone that sharing knowledge is important, and encourages program and project sponsors to lead by example in the pursuit of project portfolio management best practice and behaviours conducive to a transparent and collaborative working environment.

The sharing of knowledge and wisdom could range from formal knowledge management within an organisational community of practice to discussion groups on social media and beyond. Taking a holistic approach to professional portfolio, programme and project management development takes into consideration that people learn by doing, by observing, by listening, by reading, and by teaching others. These activities or practices should be actively demonstrated in any community of practice otherwise continued support and participation may be at risk.
3. Practice
The third element is about creating domain based knowledge the community of practice develops, shares and maintains portfolio, programme and project management information and canvasses, a term used to describe reusable templates. Knowledge is simply too valuable a resource to be left to chance. It's often said that a wise person learns from their mistakes. A wiser one learns from others' mistakes. But the wisest person of all learns from others' successes. Effective knowledge management therefore means that ideas, experience and insights are used within and between portfolios, programmes and projects to improve cyclical portfolio definition and portfolio delivery practices and performance.

Organisations need to understand precisely what portfolio, programme and project management knowledge will give them a competitive advantage. They then need to keep this knowledge on the cutting edge, deploy it, leverage it, and embed it across the entire organisation. A Portfolio, Programme or Project Management Office (PMO) can influence and change the broader organisation's view by introducing new knowledge management practices that identify and embed previously undervalued knowledge.

Cultivating communities of practice in strategic areas is a practical way to manage knowledge as a critical asset in experiential learning. It is difficult for organisations to keep up with the rapid pace of change, particularly where communities of practice are not focused on critical portfolio, programme and project management improvement management areas that may follow a capability maturity assessment.

Building upon the initial ideas of Wenger, McDermott and Synder, there is a fourth and equally important element that is sadly ignored, dismissed or omitted from industry advice.
4. Structure
This fourth element is responsible for the design and operational deployment. Communities of practice are typically established upon existing organisational networks and evolve beyond any particular design, the purpose of a design is not to impose a structure but to help the community develop. However current thinking suggests that these forums work better if they are structured, integrated into the organisation and supported by senior management particularly to embed any business change improvement processes. A terms of reference or social contract should exist for the community to promote the behaviour of continuous improvement.

This could be achieved by adopting and embedding a champion-challenger model, whereby any portfolio, programme and project management process or practice is open to challenge and improvement. But until successfully challenged, all agree to adhere and promote the existing arrangements.

This thinking aligns with the Japanese concept of ShuHaRi, a model used to illustrate the path an apprentice takes to learn about something until that person becomes a master. This approach also helps ensure that stakeholders are actively involved in the project portfolio management practices rather than perceiving them as something that is applied to them.

Some of the best structures are operated in a semi-formal arrangement. Typically held once a month, specialists are invited from within the organisation and outside to speak about a topic of interest nominated by the group. These presentations are time-boxed to 10 minutes to hold people's interest. The other half of the meeting would form informal discussion between the group to discuss any ideas, insights or concerns.
In conclusion, it is all too easy for communities of practice to be established with enthusiasm and then dissolve through lack of support and participation, particularly from senior management. Where an organisation sets up a community of practice as part of its commitment to the discipline and profession of project portfolio management, it must recognise that the community of practice will need broader organisational support and on-going commitment in terms of financial support and allowing people the time to participate and contribute.
Its paramount therefore for any organisation to create a permanent environment where people within an interest in project portfolio management can share ideas, insights and experience with a focus on how the entire organisation can learn from previous experiences and successes.
As the rate of change accelerates, organisations should continually strive to identify and leverage competitive and performance advantage from improved efficiency and delivery. Best practice portfolio, programme and project management through communities of practice should continue to evolve as the understanding of what makes organisations perform well grows.