Simon Sinek, Ted Talk fame and author of Start with Why and the creator of the Golden Circle concept purports that great organisations seem to create their foundation by first addressing Why they exist, then How they go about their mission and then finally, What they do. Most leaders and organisations however start from the outside in. That is, they start with What.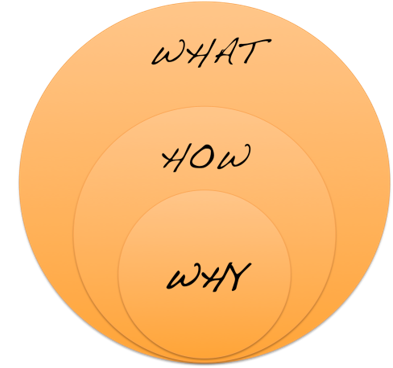 Sinek starts with a fundamental and perpetual question of why? Why are some people and organisations more innovative, more influential, and more profitable than others?
Why do some command greater loyalty from customers and employees alike? Even among the successful, why are so few organisations able to repeat their programme and project success over and over again?
The Why explains the purpose, cause or belief that inspires an organisation to do what they do. When an organisation thinks, acts or communicates starting with why they can inspire others, not only the employees but most importantly, their customers.

So, let's explore how Simon Sinek's 'Start with Why' theory also applies to portfolio management. Effective portfolio management as the main investment vehicle within an organisation is the coordinated collection of strategic processes and decisions that together enable the most effective balance of organisational change and business as usual. Like the Golden Circle concept of Why, How and What, portfolio management helps organisations answer the fundamental question of "why" by asking are we sure this investment is right for us and how will it contribute to our organisational strategic objectives?

The need for a programme or project may be perceived as an obvious outcome of this process but a spending proposal should never be taken forward without confirming why it is required in relationship to:
the policies it supports
the other programmes and projects within a strategic portfolio (the totality of an organisation's investment (or segment thereof) on changes required to achieve its strategic objectives)
the other projects within a programme
impact upon other organisational policies and programmes
A strategic review, in the form of a gateway review, should occur if the response to any of these points is unclear. To understand why, genuine commitment must exist, and all parties that represent the business, supplier and users interests must be absolutely clear about why a programme and project is needed; what it is designed to deliver; how the outputs, capabilities, outcomes and benefits are to be achieved; and a clear definition and delineation of roles and accountabilities.

Effective portfolio management within an organisation should demonstrate that the spending proposal provides business synergy and strategic fit and is predicated upon a robust and evidence based case for change. This includes the rationale of 'why' intervention is required, as well as a clear definition of outcomes and the potential scope for what is to be achieved. Historically across the globe, the success of programmes and projects has been gauged by the extent to which implementation was completed on time, within budget and the delivery of agreed outputs, capabilities, outcomes and/or benefits. Unfortunately organisations ubiquitously struggle to demonstrate a return on their investment in change.
In 2017, it was reported in the Project Management Institute (PMI)'s Pulse of the Profession report that "organisations are wasting an average of $97 million for every $1 billion invested, due to poor programme and project management performance". True success, therefore, is only possible if the programme and project was the right initiative to implement in the first place by actually contributing to the organisation's strategic objectives.

In summary, the What an organisation does can change with the times, but the Why an organisation does never changes. The implementation of programmes and projects should adapt to a changing business environment but explaining the why behind change demonstrates the value of change. The reality is, most businesses today make investment decisions based on a set of incomplete or worse, completely flawed assumptions about what's driving their business. Just as important is whether or not the change initiatives are the right ones and whether the potential return on investment is achieved.

There are those who decide to initiate business change through programmes and projects to achieve the desired result and there are those who start from somewhere very different. Though both courses of action may yield similar short-term results, it is what organisations cannot see that makes long-term success more predictable for only one. The one that understands why programmes and projects need to fit by design and not by default. The pathway to purpose can be achieved by following the Golden Circle framework, upon which organisations can be built, transformational change can be led, and people can be inspired. And it all starts with ... Why?