by Donnie MacNicol
Many project leaders feel they would need to be superhuman to complete everything expected of them; they have a long list of responsibilities and need to consider the project team, the sponsor and other key stakeholders. So how do successful project leaders become successful? There are multiple approaches that are all interrelated so we have created our own model 'The Project Leader's 17 Integrative Processes'.
It is based around 'The Project Leader's Eight Lookings' featured in more detail in Project Leadership 3rd Edition.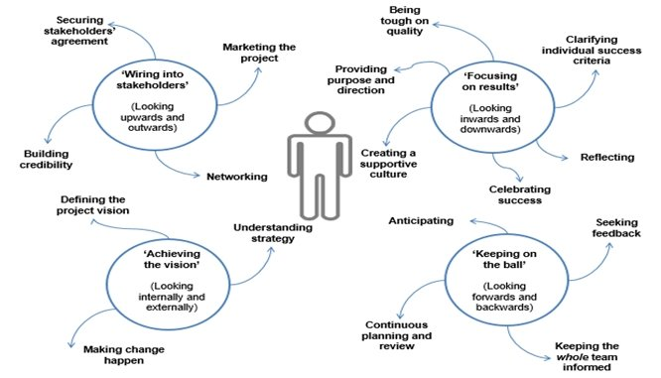 © Donnie MacNicol and Sarah Coleman
Wiring into Stakeholders:

Building strong, durable links with key stakeholders is essential for success and this can be done through securing stakeholder's agreements, building credibility, marketing the project and networking.

Looking upwards refers to managing your sponsor by identifying and developing a close relationship. Looking outwards refers to identifying all external stakeholders and understanding their perceptions and expectations so that you can meet their expectations.

Achieving the vision:

It is critical that the project is articulated in the context of both the organisation's and client's strategy so that the team are provided with direction and purpose. This can be done by defining and communicating the project vision, understanding the strategy and making change happen.

Looking internally refers to understanding how the vision for the project aligns to the vision for the organisation. Looking externally refers to understanding how the vision for the project aligns with the vision for the client and their strategy.

Keeping on the ball:

The project leader needs to be constantly aware of the opposition's threats, their own team support and maintain initiative. This is achieved by anticipating (early warning signs), continuous planning and reviewing, keeping the whole team informed and seeking feedback.

Looking forwards refers to establishing realistic plans and targets and obtaining resources to achieve those targets. Looking backwards refers to learning from past performances to improve and monitor progress.

Focusing on results:

As project leader it is up to you to maintain motivation, momentum and direction. To do this you need to provide purpose and direction, clarify individual success criteria, be tough on quality, create a supportive culture, reflect and celebrate success.

Looking inwards refers to maximising your performance by reviewing, reflecting and seeking feedback to ensure your personal contribution is positive to the project. Looking downwards refers to your responsibility, as leader of the team, to ensure the project members perform well both individually and collectively.
These processes are all interrelated so are not designed to be treated in isolation. I welcome your comments or suggestions regarding the 17 Integrative Processes, please comment down below or contact me directly.