Effective collaboration and teamworking are key to success in project, programme and portfolio management (P3M). However, teams are made up of individuals, each of whom have their own communication and working style. Having awareness of personal styles provides insights that can improve cohesion and performance.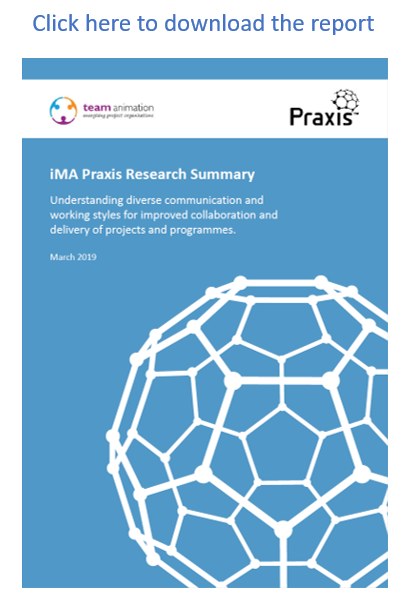 Existing P3M frameworks typically take a 'one size fits all' approach. They provide good practice in knowledge and process but make no allowance for the differences in the way people perceive, understand and implement that practice.
To address this shortfall in existing good practice guidance, Praxis Framework and Team Animation Ltd. have developed an approach that helps individuals understand how different people perceive the fundamentals of project management in varied ways.
The prototype pages were used in a survey in December 2018 and the response has been overwhelmingly positive.
The summary report is now available and can be downloaded by clicking on the cover above. Work now continues to develop a full set of iMA Praxis pages and continue research into how this approach can make project and programme teams more effective.
The growing suite of pages can be viewed here.