by Robert Buttrick
At the end of the day, I am sure you'll want to go home, put your feet up and forget about your programmes and projects for a while . . . but what if withdrawal symptoms set in and you have that urge to peek at your Blackberry or just take a look at that last report . . . help is at hand with a book extolling the virtues of programme and project management on the scale of the Roman Empire.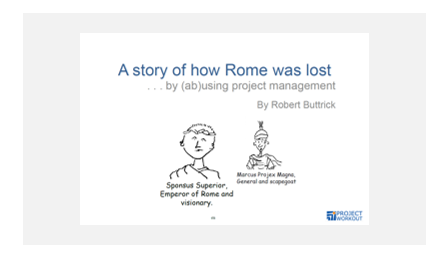 Follow Emperor Sponsus on his path to glory and the trials and tribulations of general Marcus Projex Magna as he struggles to turn Sponsus's vision into a reality.

This is programme management that you won't learn about at Saeed Business School's BT Centre for Major Programme Management in Oxford, nor from PMI or APM or MSP, nor anywhere else, for that matter.
Click the image to download your cartoon book: How Rome was lost
© Robert Buttrick