by Ron Rosenhead
No, I do not mean production of Gantt charts or estimating time and money or using planning software or even developing a WBS (Work Breakdown Structure). I mean developing a plan so you have sufficient capacity and capability to deliver the overall project management agenda.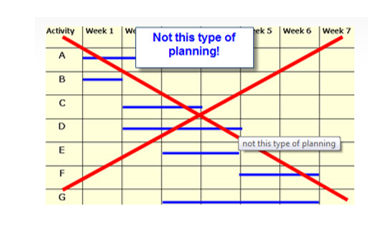 Capacity – sufficient project managers to run the projects you have already and are likely to have in the future.
Capability – suitably experienced/qualified project manager's to ensure you can manage and deliver the projects you have effectively. The ability to perform effectively.
Take a step back for a moment at the overall project/programme management agenda within your company. Some serious questions need answering:
How many project manager's do you have at the moment?

Is that number sufficient now?

Is it sufficient for the future agenda?

How are you developing your project staff? Project staff; sponsors, project managers, project team members

What are you doing to really look at development issues alongside capability issues

What are you doing to encourage staff to take on the sponsor role or the project manager role and what
development do they need before during and after this happens?

What skills are you short of now and will likely be short of in the future?

What budget is needed to overcome some of the capability/capacity issues?
There are probably more, many more questions however I am sure you get the drift.
The problem as I see it is the short term planning companies seem to have around development of staff and the cutting of training budgets. This short term thinking can have really long term devastating impacts on the project management community in any company.
So to repeat, how good is your project planning?