by Robert Buttrick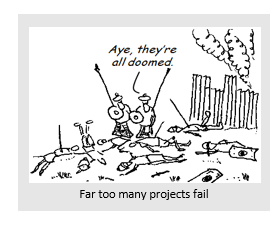 Project management, in the modern sense, has been with us a long time now. Some people have spent most, if not all their careers engaged in it in one form or another. Research and anecdotal evidence, however, seems to indicate that we still don't 'get it'. Reports continue to be written on 'causes of project failure'. Eminent committees are set up to 'get to the root of the problem', international and national standards are created and yet:
We still see failure.

We still see organisations which ignore the benefits.
Why is this? If I could answer that, then I would be able to charge massive consulting fees! The question is rather like that posed in Hitch-hikers guide to the galaxy asking, "What is the meaning of life?"  As we all know, the answer is "42" – which doesn't help us one jot. If I ever came across anyone who knew the solution to stopping project failure, I would be very sceptical.

So why can't people grasp the significance and advantages of business-led project management? We have:
Lots of good books – like the Project Workout1 !

National and international standards such as BS6079 and ISO21500.

Learned societies, like the APM and PMI®.

Conferences galore
Actually, when the Project Workout came out in 1997 it was probably the first to put project management in a business context; earlier books were focused on project management techniques.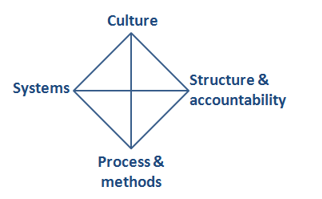 We need to cover all four bases. Having good methods and process supported by good tools and systems with clear accountabilities is necessary but not enough. The critical difference comes from an organisation's culture; how they behave and their values. Give me the right culture and mediocre process over poor culture and brilliant process, any day. Organisations where project management 'doesn't work', are likely to have a culture which actively prevents it from working. For example, for project management to be effective, we need more than just good project managers; for example:
Project sponsorship is vital if the projects are to be linked to strategy.

Portfolio management is necessary to balance risk and choose those projects which will get you towards your strategic intent faster.

Finance systems that enable project sponsors, managers and teams to see, their operational figures 'live'.

Resource management so you can take account of constraints in choosing and implementing your projects.
Hunter Thompson, in 1970, said "In a democracy, people usually get the kind of government they deserve and they deserve what they get." In this he blames the people in a democracy. Organisations, however are not democracies and so I would turn that quotation on its head:

"Senior teams get the project management performance they deserve".

The CEO sets the culture and "the way they want to run their business" and the following list indicates where the culture and values promote failure, rather than success. Running a project is difficult enough, but we often make it more arduous than it need be by creating problems for ourselves. Here are a few examples:

Reorganising – either the company or a part of it. Tinkering with your structure is usually NOT the solution to your problems, it just confuses people. If you are a senior executive, however, reorganising is a great way to hide non-delivery!


Functional thinking – not taking the helicopter, the organisation-wide view. This often happens when executives' or individuals' bonuses are based on targets which are at odds with the organisation's needs, e.g. sales bonus rewarded on revenue, regardless of profit or contribution.


Having too many rules – the more rules you have, the more sinners you create and the less happy your people become. Have you ever met a happy bureaucrat?


Disappearing and changing sponsors – without a sponsor there should be no project. Continual changing of the 'driver' will cause you to lose focus and forget WHY you are undertaking the project. Consider terminating such a project to see who really wants it!


Ignoring the risks – risks don't go away, so acknowledge them and manage them. If I said that a certain aeroplane is likely to crash, would you fly on it? And yet, every day executives approve projects when a simple risk analysis shows they are highly likely to fail.


Dash in and get on with it! – if a project is that important, you haven't the time NOT to plan your way ahead. High activity levels do not necessarily mean action or progress.


Analysis paralysis – you need to investigate, but only enough to gain the confidence to move on. This is the opposite of dash in and ignore the risks. It is also a ploy used to delay projects: . . . I haven't quite enough information to make a decision, just do some more study work.'


Untested assumptions – all assumptions are risks; treat them as such.


Forgetting what the project is for – if this happens, terminate the project. If it is that useful, someone will scream and remember why it is being done.


Executive's 'pet projects' – have no exceptions. If an executive's idea is really so good, it should stand up to the scrutiny that all the others go through. He or she may have a helicopter view, but might also have their head in the clouds.

I'm sure you can add to that list, so please do, by adding a comment. Over the next few months, I'll investigate a number of the above symptoms.
The Project Workout, Buttrick R, 1997, Financial Times, London
© Robert Buttrick