Een mijlpaal slipchart is een eenvoudig maar zeer effectief voortgangsrapport.
Op wekelijkse of maandelijkse basis worden mijlpalen uitgezet op een raster om te laten zien wanneer ze gepland zijn om plaats te vinden. In het voorbeeld staat 0 voor de start van het project of programma. In de baseline mijlpaalplanning staat M1 gepland voor week 2, M2 voor week 5 en M3 voor week 7.
Aan het eind van de eerste werkweek liggen alle drie de mijlpalen op schema, aan het eind van week twee zijn ze allemaal een week te laat. Aan het eind van de week drie eindigt M1 een week te laat en de andere mijlpalen zijn nog een week te laat.
In week vier ligt M2 weer op schema maar is M3 nog een week te laat. M2 eindigt op tijd in week vijf, maar tegen week zes is M3 vertraagd met nog een week.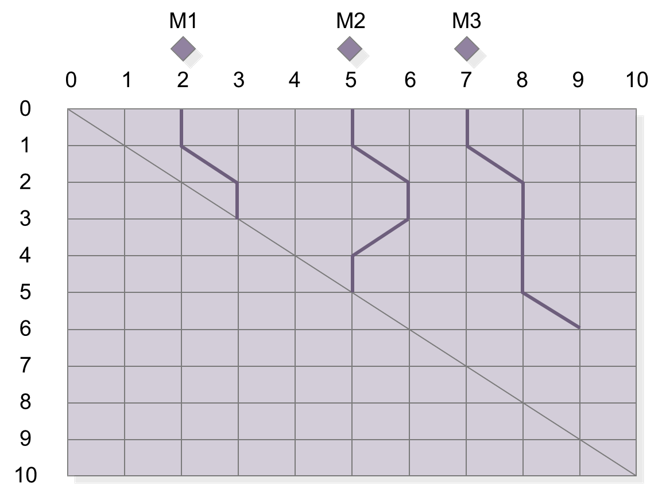 De voortgangsdata kunnen gemakkelijk worden overgeheveld van een gedetailleerde planning naar dit eenvoudige verslag, dat perfect geschikt zal zijn voor veel stakeholders die alleen behoefte hebben aan voortgangsinformatie op hoog niveau.
Met dank aan het BPUG-team voor de vertaling naar het Nederlands