Het scrum proces is een veel gebruikt ontwikkelproces voor agile projecten. Het werd geïntroduceerd door Jeff Sutherland in 1993 met behulp van een analogie uit de sport van Rugby om een sterk geïntegreerd, functieoverschrijdend team weer te geven.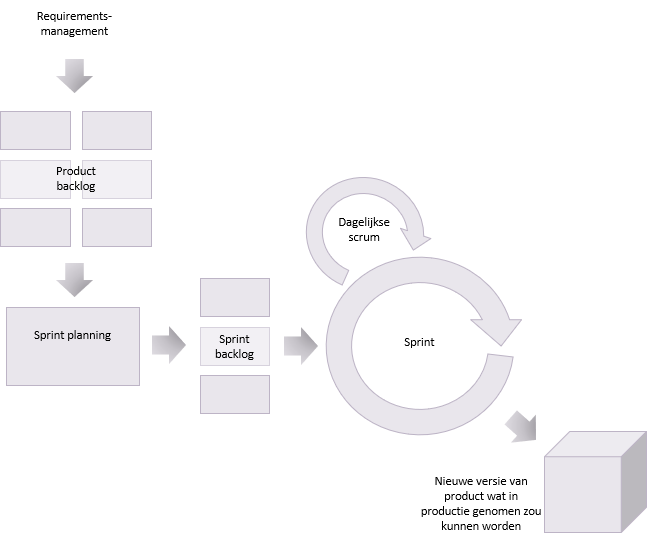 In de scrum benadering maakt een 'productowner' een geprioriteerde wensenlijst genaamd een 'product backlog'. Dit kan worden geprioriteerd met behulp van technieken zoals MoSCoW en dient te worden onderworpen aan de kernbeginselen van requirementsmanagement.
Tijdens de planning van de 'sprint' selecteert het ontwikkelingsteam een partij producten met hoge prioriteit die het wil voltooien tijdens een 'sprint' (tijdbox) van doorgaans 2 tot 4 weken.
Het team komt dagelijks bijeen om de voortgang te beoordelen en deze vergadering wordt gefaciliteerd door een 'scrummaster'. De scrummaster houdt het team scherp, volgt de voortgang en verwijdert obstakels die van invloed kunnen zijn op het behalen van de 'sprint'-doelen. De meningen over de vraag of de rol van scrummaster kan of moet worden vervuld door de projectmanager zijn controversieel.
De voortgang binnen een 'sprint' kan bewaakt worden door middel van een kanban aanpak. De voortgang van productontwikkeling over meerdere 'sprints' kan worden gevisualiseerd in een burn down chart.
Aan het einde van de 'sprint' dienen de gekozen producten klaar te staan om aan de 'productowner' te demonstreren of om daadwerkelijk geleverd te worden. Producten die niet gereed zijn worden teruggezet naar de 'backlog'.
Een 'sprint' moet eindigen met een review (net als een post-projectreview maar op veel kleinere schaal). Het team selecteert vervolgens de volgende partij producten voor de volgende 'sprint'.
Dit proces kan gebruikt worden in plaats van het generieke ontwikkelingsproces in de Praxis-methode.
Met dank aan het BPUG-team voor de vertaling naar het Nederlands