Op één niveau is dit, zoals de naam al doet vermoeden, een eenvoudige beslissing om iets in eigen beheer te maken of van een externe leverancier te kopen. Dit suggereert ook dat het alleen betrekking heeft op fysieke producten, maar de beginselen zijn evenzeer van toepassing op diensten, d.w.z. wanneer deze met eigen middelen of met externe contractanten worden verleend.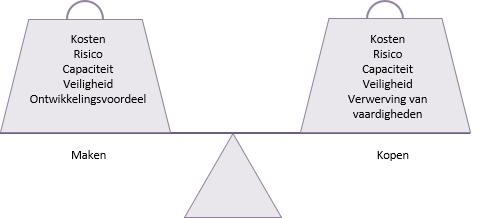 In werkelijkheid zijn er tal van onderling samenhangende factoren die de beslissing beïnvloeden. Een voor de hand liggende overweging zijn de kosten, maar andere factoren betreffen:
het risico verbonden aan het intern uitvoeren van het werk in plaats van het extern uitbesteden;
de blijvende beschikbaarheid van de vereiste resources of de capaciteit van de leverancier (en de mogelijkheid van een contractuele regeling om dit te garanderen);
de beveiliging van informatie die aan externe leveranciers zou moeten worden verstrekt;
de mogelijkheid om een nieuwe interne capaciteit te ontwikkelen;
de mogelijkheid om nieuwe vaardigheden te leren uit externe bronnen.
Het zou onjuist zijn om elke factor afzonderlijk te wegen, omdat zij samen een beeld vormen van de optimale aanpak.
De resultaten worden samengevat en meegenomen in de business case van een project of programma. Op programmaniveau kan het mogelijk zijn de behoeften van meerdere projecten in het besluit te combineren; op portfolioniveau kunnen de behoeften van meerdere projecten en programma's worden geconsolideerd.
Met dank aan het BPUG-team voor de vertaling naar het Nederlands