Een decompositiestructuur is een hiërarchie van onderdelen van een bepaald aspect van een project, programma of portfolio.
Voorbeelden zijn: kostendecompositiestructuur (cost breakdown structure, CBS), organisatiedecompositiestructuur (organisational breakdown structure, OBS), productdecompositiestructuur (product breakdown structure, PBS) en werkdecompositiestructuur (work breakdown structure, WBS).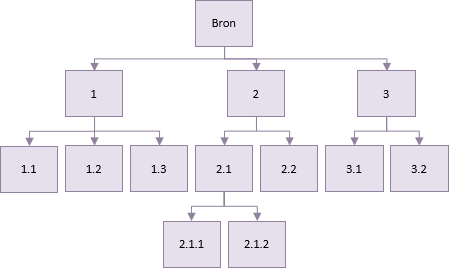 Als de bron bijvoorbeeld een product van een project is, kan de decompositie de producten zijn waaruit het product (PBS) bestaat of het werk dat nodig is om deze te maken (WBS). In het geval van de WBS zou het onderste decompositieniveau de activiteiten weergeven die in een netwerkdiagram gebruikt worden.
Als de bron het project of programma opleveringsteam (OBS) was, dan kunnen de onderdelen op de hogere niveaus, afdelingen of vaardigheidsgroepen tonen; en op de lagere niveaus worden de individuen getoond.
Een WBS en OBS kunnen in combinatie worden gebruikt om een responsibility assignment matrix, (RAM) te maken die laat zien wie verantwoordelijk is voor welke activiteit. Dit is meer bekend als de RACI of RASCI matrix (responsible, accountable, support, consult, informed).
Met de kosten als bron zou de decompositiestructuur de basis kunnen vormen voor kostenberekening en -rapportage.
Sommige auteurs bevelen het gebruik van decompositiestructuren aan om risicogebieden te beoordelen en te bundelen in een 'risk breakdown structure' (RBS).
Met dank aan het BPUG-team voor de vertaling naar het Nederlands