Het boek van Colin Carnall 'Omgaan met verandering in organisaties' verscheen voor het eerst in 19901. Hierin stelde hij een model voor dat zich richt op de rol van de manager tijdens het veranderingsproces.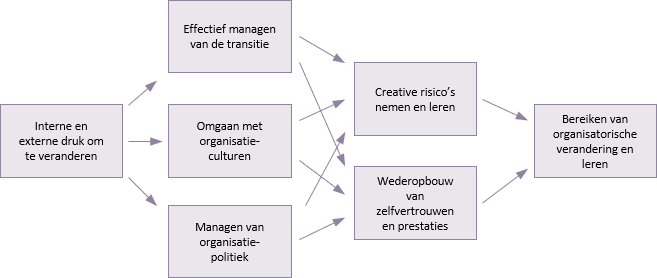 In de P3-omgeving creëert de druk om te veranderen de behoefte aan een project of programma en is de 'manager' in de eerste plaats de business change manager (BCM).
Omgaan met organisatieculturen en het managen van organisatiepolitiek zijn duidelijk functies die het BCM (met ondersteuning van andere leden van het project/programmateam) moet inbouwen in stakeholdermanagement, terwijl het de transitie beheert als onderdeel van de batenrealisatie.
Carnall stelt dat een manager die bekwaam is in het managen van de transitie een sfeer van creatieve risico's zal creëren en mensen zal helpen om te leren als zij de verandering implementeren. Dit leidt op zijn beurt tot organisatorische verandering of, in de taal van het P3-management, verandering verankeren zodat de baten kunnen worden gerealiseerd.
In hun boek 'Making Sense of Change Management' suggereren Cameron en Green2 dat het model van Carnall het meest toepasbaar is op Morgan's 'political' en 'organism'('politieke' en 'organisme') metaforen van organisaties.
Carnall, C (2007), Managing Change In Organisations, Prentice Hall, London
Cameron, E and Green, M (2009), Making sense of change management, Kogan Page, London
Met dank aan het BPUG-team voor de vertaling naar het Nederlands