Ikujiro Nonaka en Hirotaka Takeuchi zetten hun 'spiral model of knowledge management' in 19951 uiteen.
Soms ook wel het 'SECI-model' genoemd, gaat in op de verbanden tussen stilzwijgende en expliciete kennis en illustreert hoe kennis wordt uitgebreid en versterkt door het proces van het omzetten van stilzwijgende kennis in expliciete kennis en weer terug.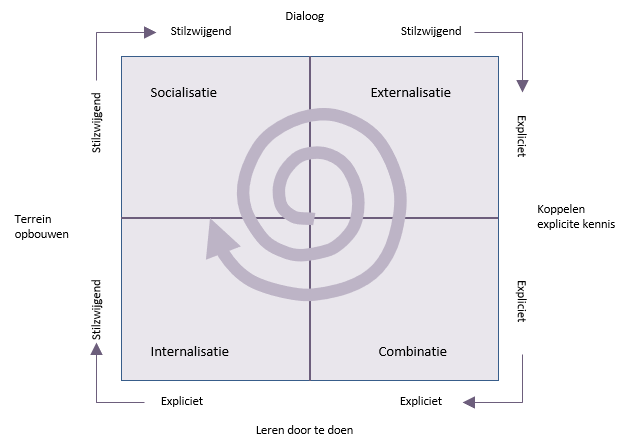 Socialisatie

Stilzwijgende kennis is in handen van individuen en wordt voortdurend verbeterd door hun ervaringen. Bij socialisatie gaat het om het delen van stilzwijgende kennis door middel van communicatie en het delen van ervaringen. Dit moet elke keer gebeuren als een P3-managementteam bijeenkomt en is ook een belangrijke factor in de relatie tussen de manager en de sponsor.

Buiten het normale dagelijks management van individuele projecten en programma's kan een organisatie het proces van het delen van stilzwijgende informatie bevorderen door middel van vakgroepen (Communities of Practice) of ondersteuning voor coaching en mentoring.

Externalisatie

Stilzwijgende kennis wordt omgezet in expliciete kennis door het ontwikkelen van modellen en het beschrijven van concepten. In feite is dit wat Praxis en andere handleidingen doen door stilzwijgende kennis in een fysieke, leesbare vorm te documenteren. Deze expliciete en soms theoretische kennis vormt een basis voor het creëren van nieuwe kennis.

Combinatie

Wanneer kennis expliciet is, kan deze worden gecombineerd. Praxis is opnieuw een goed voorbeeld van deze combinatie. Het neemt expliciete kennis uit een verscheidenheid van gepubliceerde bronnen, met inbegrip van projectmanagement organen van kennis, methodologieën, competentie raamwerken en vaardigheidsniveau modellen en combineert deze in iets dat hopelijk groter is dan de som van de delen.

Internalisatie

Dit gebeurt wanneer de persoon de expliciete kennis begrijpt en deze deel gaat uitmaken van zijn normale gedrag. Dit bouwt het vermogen van het individu op om nieuwe stilzwijgende kennis te ontwikkelen, die vervolgens terugkomt op het principe van socialisatie.
De spiraal in het model geeft aan dat elke keer dat kennis rond deze lus gaat, deze uitgebreid en verbeterd wordt. Dit belichaamt het principe van Praxis als een open framework dat evolueert door bijdragen van de P3M gemeenschap.
Nonaka, I; Takeuchi, H (1995), The knowledge creating company: how Japanese companies create the dynamics of innovation, Oxford University Press, New York
Met dank aan het BPUG-team voor de vertaling naar het Nederlands