Een 'burn down chart' is een grafische weergave van het resterende werk in verhouding tot de tijd. De eenvoudige psychologie van de grafiek is dat het de focus legt op wat er nog te doen is in plaats van op wat er bereikt is. Terwijl een waardering van wat er gedaan is gevoelens van tevredenheid creëert, geeft een waardering van wat er nog te doen is een gevoel van urgentie.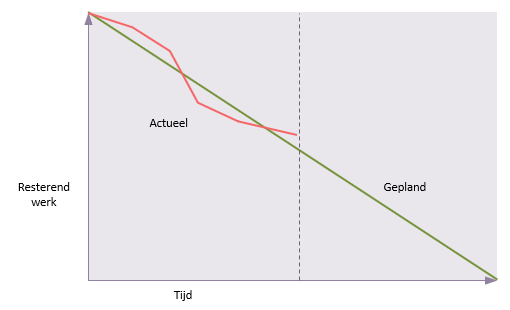 De verticale schaal kan in verschillende eenheden worden gemeten. Het kan gaan om inspanning (uren of dagen) of opgeleverde producten. Sommige agile-benaderingen gebruiken 'story points' op deze schaal.
'Burn down charts' worden vaak gebruikt in agile benaderingen waar ze een enkele timebox (of sprint) omvatten. In dit geval zal de tijdschaal kort zijn (meestal 2 tot 4 weken) en daar geeft de grafiek een echt gevoel van wat er gedaan moet worden voordat de timebox (of sprint) is geëindigd.
Het principe van 'burn down charts' kan gebruikt worden in combinatie met andere technieken zoals het verbruik van buffertijd in 'critical chain' (Zwakste schakel) schema's.
Met dank aan het BPUG-team voor de vertaling naar het Nederlands