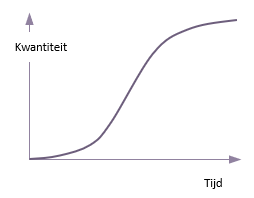 De aard van de ontwikkeling van projecten en programma's is dat het activiteitsniveau stijgt tot een piek tijdens de opleveringsfase en vervolgens afloopt in de richting van afsluiting.
Dit betekent dat het verbruik van geld en hulpbronnen op dezelfde manier een piek bereikt en vervolgens afneemt.
Wanneer dit cumulatief wordt berekend en grafisch wordt weergegeven, heeft het gewoonlijk de vorm van een horizontaal uitgerekte 'S' vandaar de term 'S-Curve'.
Planningstechnieken zoals kritieke pad analyse bieden de vroegste en laatste data waarop activiteiten kunnen worden uitgevoerd. Deze twee datareeksen geven verschillende S-curves en vormen een afbakening indien ze samen worden geplaatst.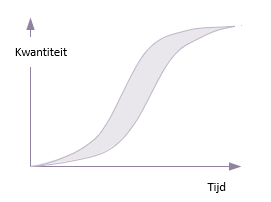 Het feitelijke gebruik van een resource of uitgave moet binnen de afbakening blijven zolang het werk binnen de grenzen van het kritieke pad verloopt.
Dit kan nuttig zijn voor de planning van de voorraadniveaus voor verbruiksgoederen of voor het overeenkomen van financieringsrequirements.
Met dank aan het BPUG-team voor de vertaling naar het Nederlands