Jon Katzenbach en Douglas Smith1 definieerden team als:
"a small group of people with complementary skills who are committed to a common purpose, performance goals and approach for which they are mutually accountable".
("een kleine groep mensen met complementaire vaardigheden die zich inzetten voor een gemeenschappelijk doel, prestatiedoelen en aanpak waarvoor zij wederzijds verantwoordelijk zijn").
Deze eenvoudige definitie combineert team rolmodellen zoals Belbin en Margerison-McCann (complementaire vaardigheden) met P3-management (gemeenschappelijk oogmerk en prestatiedoelen) en modellen van leiderschap zoals Hersey en Blanchard en McGregor (wederzijds verantwoordelijk).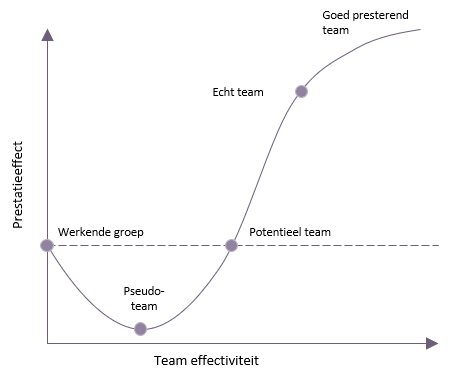 Onder hun vele waarnemingen over teams identificeerden zij vijf niveaus van teamwork. Dit heeft duidelijke parallellen met Tuckman's model, maar heeft het toegevoegde idee van 'performance impact' (prestatie-effect).
Werkende groep (Working group)

De teamleden komen bij elkaar om informatie te delen, maar vooralsnog is er geen sprake van een gemeenschappelijk oogmerk of prestatiedoelen waarvoor wederzijdse verantwoording nodig is. Elk teamlid is alleen verantwoordelijk voor het werk dat de groep aan hem heeft gedelegeerd.

Pseudo-team (Pseudo team)

Dit team staat onderaan de prestatiecurve. Leden kunnen denken dat ze deel uitmaken van een team, maar handelen nog niet als een team. Dit kan zijn omdat zij niet het risico willen nemen om zich te verbinden aan een gemeenschappelijk oogmerk en de wederzijdse verantwoording die dit met zich meebrengt.

Potentieel team (Potential team)

Op dit niveau bewegen de teamleden zich in de richting van een gemeenschappelijk oogmerk en een gemeenschappelijke aanpak om dit te bereiken. Zij streven naar een hoger prestatieniveau en moeten het eens worden over wederzijdse verantwoording.

Echt team (Real team)

In een dergelijk team heeft een kleine groep mensen een gemeenschappelijk oogmerk en aanpak. Zij beschikken over complementaire vaardigheden en delen de verantwoordelijkheid voor de resultaten.

Goed presterend team (High performing team)

Het verschil tussen een echt team en een goed presterend team is de relatie tussen de teamleden. Goede prestaties zijn het resultaat van het feit dat de leden zich inzetten voor elkaars persoonlijke groei en ontwikkeling.
Katzenbach, J. R. and Smith, D.K. (1993), The Wisdom of Teams: Creating the High-performance Organisation, Harvard Business School, Boston
Met dank aan het BPUG-team voor de vertaling naar het Nederlands