Gary Furlong geeft een uitgebreid model voor het oplossen van conflicten in zijn boek 'The Conflict Resolution Toolbox'1 waarin de conflictcirkel centraal staat.
De cirkel bestaat uit zes elementen, die Furlong identificeert als de belangrijkste drijfveren voor conflict. In de bovenste helft van de cirkel staan: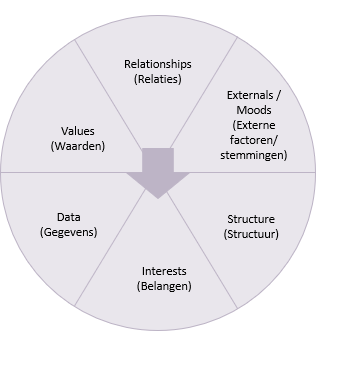 Values (waarden): de geloofssystemen van partijen en ideeën over wat goed of fout is.
Realtionships (relaties): negatieve ervaringen uit het verleden, stereotypen en slechte communicatie.
Externals/Moods (externe factoren/stemmingen): factoren die geen verband houden met een meningsverschil, 'slechte dagen' en dergelijke.
Furlong stelt dat het afdwalen naar de drijfveren in de bovenste helft van de cirkel het conflict waarschijnlijk zal verergeren.
Om een conflict op te lossen moet het gesprek worden toegespitst op gebieden waarover de partijen enige controle hebben, d.w.z. de oorzaken van het conflict in de onderste helft van de cirkel:
Data (gegevens): gebrek aan informatie of verkeerde informatie, problemen bij het verzamelen van gegevens.
Interests (belangen): de wensen, behoeften, verlangens, angsten of zorgen van elke partij.
Structure (structuur): beperkingen op het gebied van resources, geografische beperkingen, organisatorische en autoriteitsissues.
Deze conflictdrijfveren kunnen op een nuttige manier gecombineerd worden met de conflictbronnen van Thamhain en Wilemon in de projectlevenscyclus en het Thomas-Kilmann-model om de P3-managers een perspectief te bieden op de uitdagingen waarmee zij worden geconfronteerd bij het managen van conflicten met een project of programma.
Furlong, G (2005), The Conflict Resolution Toolbox, Wiley and Sons, Ontario.
Met dank aan het BPUG-team voor de vertaling naar het Nederlands