Thamhain en Wilemon1 hebben een studie uitgevoerd om de bronnen van conflict in de levenscyclus van projectmanagement te onderzoeken.
Ten eerste identificeerden Thamhain en Wilemon de zeven belangrijkste conflictbronnen van een project. Dit waren: planning, prioriteiten, menskracht, technische opties, procedures, kosten en persoonlijkheid. Vervolgens beoordeelden zij de relatieve intensiteit van conflicten uit deze bronnen naar verschillende fasen van een levenscyclus van vier fasen.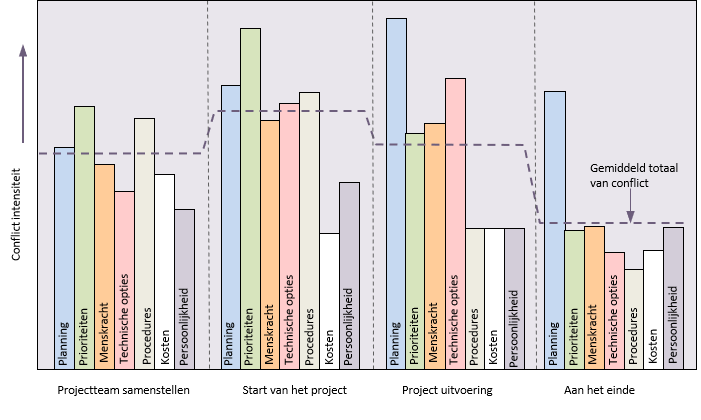 Het belang van de verschillende conflicthaarden varieert naar gelang van de vier fasen van de levenscyclus en het gemiddelde totale conflict wijst erop dat de grootste niveaus zich in de beginfase voordoen. Dit eenvoudige model is vrij intuïtief, maar in de moderne context kan het patroon aanzienlijk variëren, afhankelijk van de context van het project of programma en volwassenheidsniveau van de organisatie.
Thamhain H.J. and Wilemon D L, (1975). Conflict management in project life cycles. Sloan Management Review.
Met dank aan het BPUG-team voor de vertaling naar het Nederlands