In zijn eenvoudigste vorm is een beïnvloedingsdiagram een beslissingsondersteunend instrument dat bestaat uit een reeks gekoppelde knooppunten. Er zijn verschillende afspraken rond de vorm en kleur van de knooppunten, maar een basisinvloeddiagram bestaat uit pijlen en drie vormen.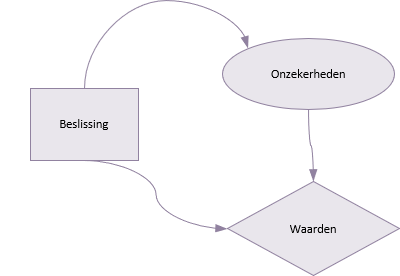 Rechthoeken geven beslissingen of dingen aan die regelbaar zijn. Ovalen vertegenwoordigen onzekerheden en diamanten vertegenwoordigen waarden of de vereiste producten van het systeem dat gemodelleerd wordt. Pijlen geven aan hoe deze knooppunten elkaar beïnvloeden. In tegenstelling tot netwerkdiagrammen geven de pijlen geen afhankelijkheden of doorstroom (flow) of tijdsverloop weer - het zijn louter invloedindicatoren.
De basisprincipes van beïnvloedingsdiagrammen kunnen worden aangepast aan verschillende delen van een P3-'systeem'. Beslissingen kunnen bijvoorbeeld worden geïnterpreteerd als projecten, veranderingen of resultaten, ovalen kunnen worden geïnterpreteerd als risicogebeurtenissen of de acties van stakeholders. Waarden zijn doorgaans de te behalen baten.
Een algemene vorm van een P3-beïnvloedingsdiagram kan eruit zien zoals hieronder weergegeven.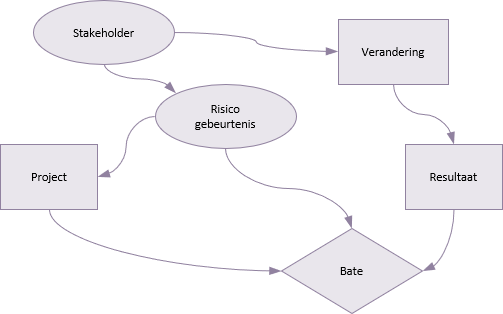 Naarmate een project of programma complexer wordt, wordt het steeds moeilijker om de vele onderlinge verbanden in één diagram weer te geven. Een benadering is om invloedsschema's te beperken tot één bepaald aspect van het werk, zoals relaties tussen projecten, uitkomsten en baten; relaties tussen resultaten en risicogebeurtenissen of relaties tussen projecten en stakeholders. De mogelijke combinaties zijn eindeloos en er zullen verbanden zijn tussen verschillende invloedsschema's die met interface nodes getoond kunnen worden (in de vorm van een zeshoek bijvoorbeeld).
Met dank aan het BPUG-team voor de vertaling naar het Nederlands